California Rodeo Salinas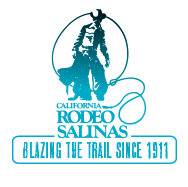 Upcoming live video coverage from Wrangler Network; Saturday, July 22nd & Sunday, July 23rd – 1:00 pm (Pacific).
The California Rodeo Salinas is one of the top 20 Professional Rodeos in the United States and the largest in California. Known in the rodeo world for our big arena and beautiful buckles, we are most proud of being a not-for-profit organization that gives back between $200,000 and $300,000 each year to local non-profits. Please click on the links below to learn more about this 106 year old tradition!
See more at http://www.carodeo.com/