San Antonio Stock Show & Rodeo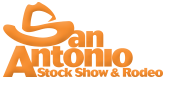 Video coverage from Wrangler Network; Tuesday, February 21st – Saturday, February 25th, 2017.
Also known as San Antonio Livestock Exposition, Inc. (S.A.L.E.) has grown to one of the largest, most prestigious single events in the city of San Antonio, with over two million visitors entering the grounds each year. The success of S.A.L.E. is attributed to over 6,000 volunteers who give countless hours to the organization. With community, donor and volunteer support, the organization has donated more than $171.4 million to the youth of Texas through scholarships, grants, endowments, junior livestock auctions, youth western art auction, calf scramble program and show premiums.
See more at sarodeo.com
---
Live Webcast Schedule