Britany Diaz – Solen, N.D.
2-time WNFR qualifier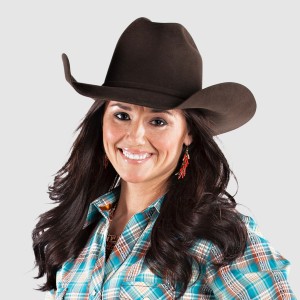 Nobody has enjoyed more of a breakout season in 2014 than Britany (Fleck) Diaz of North Dakota.
Diaz, 31, has a degree in journalism and worked in communications at a bank in Bismarck until she resigned to rodeo full-time in 2010. Her ride, Rootie, was just a ranch horse she bought to break for extra credit in college that quickly caught on.
Learning the ropes from fellow Badlands Circuit barrel racer Lisa Lockhart, Diaz won the circuit championship in 2009 and the very next year finished an oh-so-close 17th in the world standings.
In 2011, she did qualify for the Wrangler NFR as the first barrel racer from North Dakota to do so. But she had a dismal showing in Las Vegas and for the next two years, hovered around 25th in the world standings.
Now she's returned on her 14-year-old black mare, Dasher Dude ("Rootie"), who incidentally is related to another rodeo standout. Rootie's half-sister, TR Double Cash, is also the mother of Dolly, the two-time WNFR average winner on whom Jill Moody set the record for fastest 10 runs in Las Vegas in 2010.
A year ago, Diaz married WNFR saddle bronc rider and Florida native Isaac Diaz, 28. Her husband finished this season ranked 20th but the two competed side-by-side at the Calgary Stampede this year. Britany finished fourth there and used the $18,000 to help qualify for her second WNFR.