Christine Laughlin – Pueblo, Colo.
Barrel Racing
1-time WNFR qualifier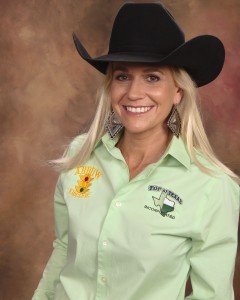 A first-timer at the Wrangler NFR, Laughlin generated plenty of confusion this season because her name is very similar to that of fellow qualifier Christy Loflin, and both are from Colorado.
Laughlin, 36, was born and raised outside Pueblo on horses, and roped and barrel raced competitively for West Texas A&M University. The well-spoken blonde met Kathleen Collier, of Hereford, Texas, a few years ago when their mutual friend Jack Vanwey of Pueblo was riding a horse for Collier.
The horse, a stunning gray gelding named Guy's Six Pack To Go, would make Laughlin's dreams come true when Collier agreed to send him with Laughlin. Nine-year-old "Six Pack," who carries the same On A High bloodlines as Britany Diaz's horse Dasher Dude, performed so well that Laughlin was able to quit her job working for a local home builder and hit the road.
"I have a pretty good bond with him," Laughlin said. "Like Kristie Peterson and Bozo or Sherry Cervi and Stingray, you really have to have that connection with a horse."
Their dream season began in earnest when they won the Reno (Nev.) Rodeo and $14,000 in June to bump Laughlin from 29th to 16th in the world. In July, they won the California Rodeo in Salinas for $14,500. Another big $8,500 win in Dodge City (Kan.) in August sent them into the top 10 and in September, they won the Ellensburg (Wash.) Rodeo for $9,100.
Collier couldn't be prouder of her horse and its jockey, and will also send a 10-year-old back-up horse with Laughlin named Oscar De La Jolla. Six Pack and "Oscar" are distant relatives, but are nothing alike in their style of turning the Coors cans.