Deb Guelly – Okotoks, Alberta
2-time WNFR qualifier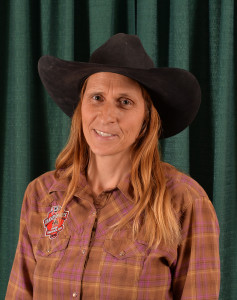 Canadian fans are rejoicing with the return of Deb Guelly to the Wrangler National Finals Rodeo (WNFR).
Deb has been there five times before, but has not made a run in the Thomas and Mack Center arena since 2008 when she was riding her great horse Reiner. In fact, she is the barrel racing field has missed having a Canadian since Lindsay Sears last qualified in 2012.
As would be expected, much of Deb's success came north of the border where money also counts towards the Canadian Finals Rodeo (CFR) Nov. 11 -15. Deb and Taylor Jacob are the only competitors in this year's WNFR field that will compete at both of these events.
She has earned the Canadian Barrel Racing Championship five times, the last of those was in 2013. She is the most successful barrel racer in the history of the Canadian Pro Rodeo Association with 22 CFR qualifications to her credit. She has only missed the cut twice, in 2010 and 2014 since going pro in 1992.
Last year, she was off to a great start when her good horse Scooter got hurt, moving her out of the CFR standings. This year with new horses in tow, she headed south. Scooter was still recovering and the horses she had just weren't clicking. She was in Tucson for the rodeo when her friend Ruth Haislip suggested she get on Royal Star Commander, an eight-year-old gelding owned by Ruth and her husband Jim.
Deb and Ruth had competed at the WNFR together in the late 1990s. Their friendship has been long lasting and has grown even deeper with the union between Deb and the horse known as Commander.
They started picking up checks here and there but weren't in the top 20 in the world standings until the first of September. A week before the season ended, they were in 18th place.
A win in Amarillo, Texas, and checks from Stephenville, Texas; Omaha, Neb.; and Kansas City, Mo., secured their trip to Las Vegas. Commander is really fast and Deb has worked hard to give him confidence and keep him sharp.
Both Deb and Commander will need to stay focused through ten rounds of competition at the Thomas and Mack Center – it could be a challenge with all of the Canadian fans in attendance making noise and waving their flags with pride.