Jana Bean – Ft. Hancock, Texas
3-time WNFR qualifier
1 – time RNCFR qualifier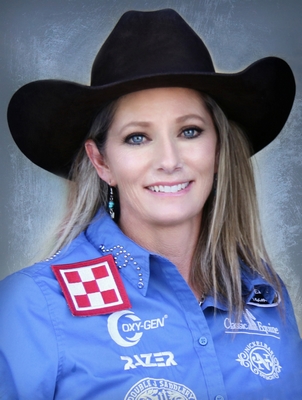 Even though Jana Bean is making her third consecutive trip to Las Vegas to compete at the Wrangler National Finals rodeo (NFR), she works hard to keep barrel racing in perspective.
She is a wife, a mother, a devoted Christian and while training and competing on barrel horses is her career path, her roles outside of the arena are equally if not more important.
Jana and her husband Breck Bean have one son, Jim Breck who has made a name for himself on the livestock show circuit. They all three compete on horses that they have raised and trained in tie-down roping, team roping and barrel racing. Jim Breck also has his own west Texas outfitting and hunting business.
Jana joined the WPRA in 1999 and has seen success in her career at all levels. She has her teaching degree and uses that to help others. Hard work and dedication can be seen in everything this cowgirl does.
Jana enters this year's NFR in 14th place with $80,336 in regular season earnings. She has three horses that have helped her get there. Dashing Klee, "Chick" is a six-year-old gelding. Ima Royal Design also known as Hammer is 9 and the final entry is UR one Famous Rebel, a 7-year-old stallion.
No matter which horse she is riding into the Thomas and Mack during the NFR, Jana's horsemanship skills will be evident with every turn. She finished the season in 13th place after qualifying for her first NFR in 2014. Last year she won $41,462 in Vegas and finished the season in 12th. This year she is more than happy to be making the trip back and is hoping for more success in the Thomas and Mack Arena.
Jana Bean's second year of trying to qualify for the Wrangler National Finals Rodeo (WNFR) found her in a familiar place – on the bubble.
She wasn't very happy about it and it definitely wasn't where she wanted to be, but she powered through earning nearly $7,500 in the last week of the regular season to move from 17th to 14th in the world standings.
Jana, her husband, Breck and son Jim Breck have a place at Fort Hancock, Texas, just across the Mexico border and 60 miles east of El Paso. They are the third generation of Breck's to live and train horses there.
That has contributed to Jana's success in the barrel racing world in a big way. Before qualifying for her first WNFR last year, she stayed closer to home, but had made a name for herself as a trainer and a competitor. Breck was successful in the pro rodeo arena as well, winning the Reno Rodeo team roping championship in 1994.
Now, they spend a lot of time horseback on the ranch, giving horses plenty of opportunities to have wet saddle blankets before they ever see a rodeo arena, which is meant to be fun. This philosophy of giving horses time away from the ranch to have fun is similar to how ranch kids are raised, doing ranch duty all week and going to a rodeo for fun on the weekend. It has also prepared Jana to ride different horses and do what she can to help the horses be successful.
They also raise show sheep and Jim Breck has completed the trifecta of Texas Stock Shows winning championships in Fort Worth, San Antonio and Houston. He is a talented roper that could be the next Bean to qualify for the WNFR.
The Bean family has made a lot of sacrifices to keep Jana on the road. Her last week of competition these past two years would make any travel agent cringe. She may not be keeping the home fires burning, but she certainly is doing what she loves and they will all be rewarded with her second consecutive appearance in the Thomas and Mack Arena.