Kaley Bass – Kissimmee, Fla.
3-time WNFR qualifier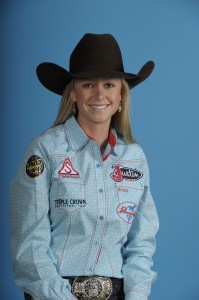 When Kaley Bass walked on stage in 2012 to accept the biggest accolade of her career up to that point – a fifth-round victory at her first Wrangler NFR – she was wearing a Florida high school rodeo trophy buckle. It was kind of like when LeBron James became the first overall draft pick in the NBA three months after winning the Ohio championship for St. Vincent–St. Mary High School.
The difference is that it took James nine years to win his first NBA championship, but Bass is favored to do it now, in just her fourth season as a pro. At 21 years old, Bass is the only contestant from Florida and the youngest barrel racer in Las Vegas.
Bass' greatest strength in Las Vegas is her avoidance of penalties. She and her 14-year-old white partner, Cowboy's Wonder Dan, rarely tip over a barrel, which is why they finished fourth in the average the past two years running.
It helps that she and the one-quarter Thoroughbred "Cowboy Dan" grew up together – they've been together since Kaley was 10 and Dan was 3. She also competes on Cowboy's full sister, "Cowgirl."
"Cowboy started out as my sister's horse, and we're real proud that we trained him and started him on the barrels," she said. "He's very, very consistent and we know his personality and his attitude so well after all this time."
The horse didn't show his age this season. Bass wasn't even ranked in the top 35 until July, when she won a staggering $150,000 in two weeks including a $115,500 check at the Calgary Stampede (just $65,500 was counted in the world standings).