Michele McLeod – Whitesboro, Texas
4-time WNFR qualifier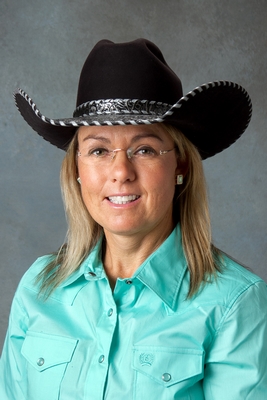 When Michele McLeod was a little girl growing up in a townhome in California, she probably never dreamt that her life would turn out like it has.
Her grandfather took her to a nearby riding stable and it was there that she spent every possible moment after that, becoming the little girl that loved horses. Her parents bought her a pony for her eighth birthday and that was just the beginning of the legacy that has been created.
Michele learned about barrel racing after high school from Bess Chaney in California. Her love of horses brought her to Texas where she now lives north of Dallas. She joined the WPRA in 2004, and competed at rodeos locally. In 2013, she was entered at Huntsville, Texas. Her horse was sold prior to her going there.
Charlie Cole and Jason Martin of High Point Performance Horses let her take their stallion Slick By Design. They won the rodeo and qualified for their first Wrangler National Finals Rodeo (NFR).
Michele has trained and ridden many horses right along with Slick, but he remains at the top of her list and they just keep getting better. Last year, they won the second and eighth round and finished the season fourth in the world.
Last February, she marked another accomplishment off her bucket list when she and Slick won the San Antonio Stock Show Rodeo and $23,529. That set them up for the rest of the season where she collected $87,745. She enters the 2015 NFR in ninth place.
Michele and her family are a team and every member has contributed to their success. Her husband John, daughters Katelyn, Lindsay and step daughter Jenna all play important roles in Team McLeod. They also share in the victories and will take a whole row of seats during the NFR.