Nancy Hunter – Neola, Utah
2-time WNFR qualifier
6-time RAM National Circuit Finals qualifier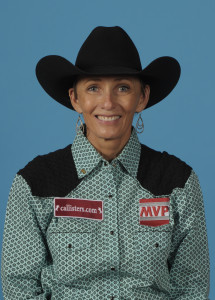 Nancy Hunter's approach to rodeo might be considered different from her fellow competitors.
Her goal of qualifying for the Wrangler National Finals Rodeo (WNFR) is secondary. She looks at individual rodeos from a business perspective and if she and her husband Fred Hunter think that the rodeo is a good opportunity to make money, they go. That has worked very well for them in 2014 and 2015 as Nancy and her horse Flit N Fizz that she calls Fuzz, qualified for the WNFR.
That was largely in part to consecutive wins at Rodeo Houston that netted them over $50,000 each of the three times they have left with the championship. The first time that Nancy and Fuzz won, it didn't count towards the WPRA world standings or they would likely be appearing in the Thomas and Mack Center for the third time.
After collecting their checks in Houston, Nancy and her husband Fred sat down and figured out how much more they would need to earn to make the NFR, then they planned their rodeo schedule carefully to accomplish that goal.
The Hunters picked rodeos that Fuzz liked and had won at before. They also limited their schedule and the travel time that was required. That has worked twice now for Fuzz who is 15-years-old and Nancy who is 58.
The best thing about last year's WNFR for Nancy is likely to be the best thing again this year – the opportunity to showcase her horse, which is out of the same sire as Fallon Taylor's Baby Flo, Dr. Nick Bar who Taylor rode at the WNFR in the 1990s.
"He has been such a blessing for us," she said. "I give the credit to Fred who trained him and brought him around slow. You always wonder if this is the horse that could get me to the Wrangler National Finals Rodeo. He's answered that question for us twice now."