Sherry Cervi – Marana, Ariz.
4-time World Champion
19-time WNFR qualifier
12-time RNCFR qualifier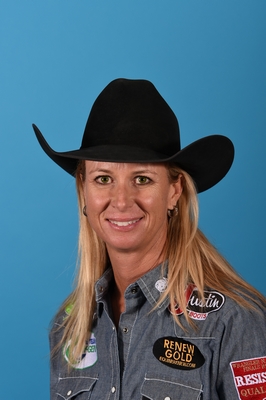 Sherry Cervi's 19th qualification for the Wrangler National Finals Rodeo (WNFR) didn't exactly happen according to plan.
In spite of winning money at Houston, and becoming the first WPRA member to cross over $3 million in career earnings, after the big Fourth of July "Cowboy Chistmas," the veteran barrel racer wasn't in the top 15 in the world standings.
One week later, her fans were relieved to see her name in that bottom hole. She won the Caldwell Night Rodeo in August and the northwest was good to her adding to her earnings to give her a total of $83,679. She will start this year's championships in 12th place.
Sherry's name is so synonymous with barrel racing it's hard to believe when she isn't among the winners. That was happening at last year's NFR prior to the 10th round. She was placing in the average, but hadn't placed in any of the rounds.
That all changed on the final night of the NFR when she stopped the clock in 13.55 seconds riding Arson. That was the fastest run of the whole rodeo and also got her a fifth place check in the average.
Sherry will be paying lots of attention during the team roping as well this year. Her husband Cory Petska will be heeling for Erich Rogers. They both won the Turquoise Circuit Finals for the second consecutive year and will be competing at the RAM National Circuit Finals Rodeo in Kissimmee, Fla., in April.
The Potters are very involved in raising Quarter Horses and their breeding program has been very successful in the rodeo arena. Sherry spent some of this October at their cranberry farm in Wisconsin where she is the fifth generation to be involved.
This year's 19th NFR qualification ties Sherry with Charmayne James for the most in the WPRA history. She is likely to break that and continue setting her own career earnings records.