Stevi Hillman – Weatherford, Texas ($185,952)
2-time WNFR qualifier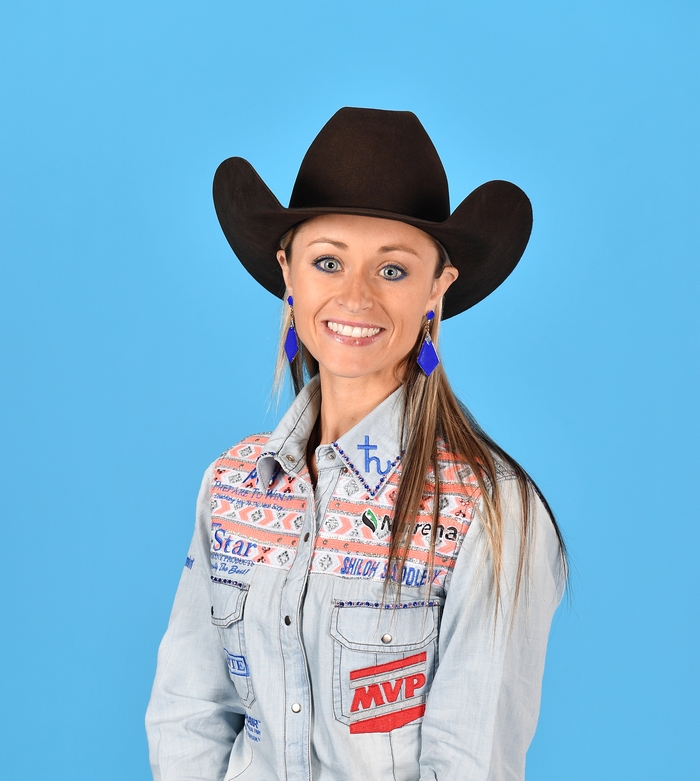 In her debut at the Wrangler National Finals Rodeo, Stevi Hillman placed in five rounds and earned $51,885. She finished 11th in the world standings with $156,528.
That set her up for her 2017 season where she used every bit of knowledge gained to qualify for her second NFR with more in earnings that she won last year. Stevi won the prestigious Cheyenne Frontier Days rodeo in Wyoming and broke the arena record at the Caldwell (Idaho) Night Rodeo twice. She has earned $185,953 during the regular season and starts the competition in the Thomas and Mack Center as the number two barrel racer in the world.
Stevi and her husband Ty make their home in Weatherford, Texas. She has her radiologic technician degree and is a part-time x-ray technician. Ty is a success coach and has started his own business, Prepare to Win. Hard work is second nature to both of them.
A Colorado native, Stevi is the first member of her family to compete in rodeo. She grew up with horses and her love for them started at an early age. Her stepfather has trained horses for AQHA competition.
She has also worked for polo, reining and cutting horse trainers and has taken her quest for learning to every job she has undertaken. That knowledge is now used every day while she is training and competing.
Stevi had success last winter aboard Cuatro Fame that she calls Truck. Her titles at Cheyenne and Caldwell as well as others were on MCM Imasharp Guy, a gray five-year-old gelding that has had rodeo fans on their feet.
Her performance in the arena is important to her as it gives her a platform to inspire others across the country. The energetic woman strives to be a role model and share her faith and passion.
Presented by: