Stevi Hillman – Weatherford, Texas
1-time WNFR qualifier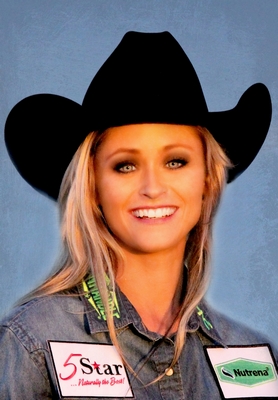 Stevi Hillman has been to the Wrangler National Finals Rodeo (NFR) twice – as a spectator.
Horses that she has trained have made their appearance in the Thomas and Mack Center for other barrel racers. Now it's her turn. She enters her first NFR in sixth place with $104,643 in season earnings.
Stevi's success in the arena started when she was a child riding horses in Ordway, Colo. Her stepfather was a trainer and showed horses in the AQHA. She took advantage of every opportunity to learn from him and ride different horses.
Going to local playdays, she loved the barrel racing. That love was put on hold while she went to college and got her Radiology degree. Always wanting to learn more, she also worked for some cutting horse, reining horse and polo horse trainers.
That built a foundation for her that now allows her to train and compete on barrel racing horses full-time. She will take two of them to Las Vegas with her, Cuatro Fame, a nine-year old gelding that she calls Cuatro or Truck and Morning Traffic, a five-year-old mare known as Martini.
Stevi and Cuatro won the championship spurs at the Reno Rodeo last June, then she rode Martini to a win at the Pendleton Roundup in September. She has been able to travel with her husband Ty much of this year whose entrepreneurial skills have led him to start a business as a success coach.