Taylor Jacob – Carmine, Texas
2-time WNFR qualifier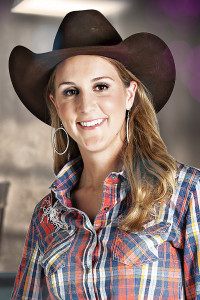 Barrel racing fans watched Taylor Jacob and her great horse Honor Thy Frenchman "Bo" set the world on fire at the 2013 Wrangler National Finals Rodeo (WNFR).
They were one of three duos that won rounds. The others were the 2013 world champion Sherry Cervi and Lisa Lockhart. Taylor and Bo won four out of seven rounds and set a new arena record in the sixth round with a 13.37-second run.
They missed last year's championships finishing the season in 33rd place when Bo wasn't at his best and early struggles. Time off, lots of tender loving care and they came back in a big way this year. She spent a lot of time north of the border, had big wins in Ponoka and Strathmore Alberta and will be competing at the Canadian National Finals Rodeo prior to coming to Las Vegas.
The second trip to Las Vegas holds a lot of promise for Taylor and Bo. The experience of winning and setting an arena record is a highlight of her career and a reminder of what Bo can do in the Thomas and Mack Center.
Taylor has had family support throughout her barrel racing career and her mom is often her copilot on road trips. They spend time reading out loud to each other. That started because they didn't want to be rude to each other by reading and not engaging in conversation.
The college graduate (Dean's List at Texas A & M University) is a four-time qualifier for the College National Finals Rodeo. She is a talented athlete who also competed in breakaway roping and goat tying in college.
It's no coincidence that it was her senior year that she made finally made it in barrel racing; the same year she got Bo. That was also the year she won the Rookie of the Year title, qualified for the WNFR and set the arena record. There is no way that 2015 can compare to 2013 for this duo. There is however, the opportunity that it could be even more memorable.