A Q&A with New Country Artist of the Month: Chase Likens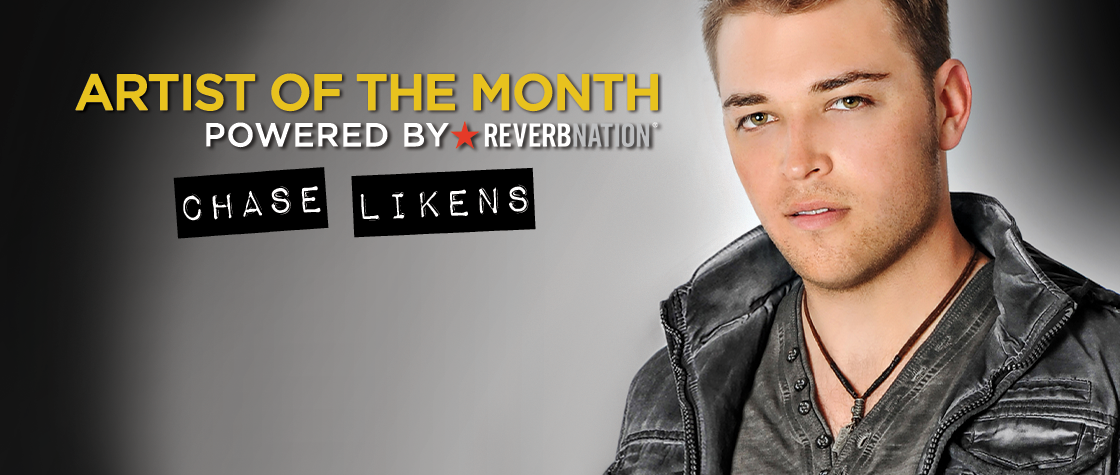 Chase Likens is a 23-year-old country music singer, songwriter and actor. He was a Top 12 Males Finalist on American Idol Season 11 and has continued to perform at numerous venues and country fairs throughout the United States, sharing the stage with Lady Antebellum, Hunter Hayes, Thompson Square and Eric Paslay. Learn more about this up-and-coming artist below and listen to his music here.
How did you get started in the music business?
Before I knew music was also a business – or even what a business was – I was singing Elvis Presley's "Hound Dog" in my kindergarten talent show. I guess it started then because I haven't stopped doing music since.
How would you describe your music?
I would describe my music as country with elements of soul and R&B intertwined with the sound of today's contemporary country.
Who are your musical influences and why?
Some of my musical influences include Elvis Presley, because of his soothing and yet effortless vocal style; Keith Whitley, due to his uncanny ability to write and perform timeless country masterpiece; and the artist formerly known as Prince because of his eclectic mix of repertoire, and his soulful performances.
Tell us about some of your favorite memories to date in your music career.
I had just turned 21 and it was mid-February, I was in Los Angeles, California, for the semifinals of American Idol. I was performing in front of a live studio audience for the first time in my life. The song I sang was "Storm Warning" by Hunter Hayes, and was my favorite song at that time. It hadn't even gone to radio yet and Hunter still approved it. I performed the song live in front of more than 500screaming fans, and in front of millions tuning in from home. Even though I was eliminated the next night, it was still a great feeling to have accomplished something like that.
Also, just last year in May, I performed at Soulshine Pizza in Nashville, Tennessee, at a William Morris Speakeasy Showcase where I played a 20-minute set of original material. Afterwards, I received an offer to become an artist on the WME/Nashville developmental roster of the highly acclaimed booking agency, which I gladly accepted.
What are your plans/goals for 2015?
Some of the plans I'm looking forward to in 2015 include a 20-city radio tour across the East Coast to promote my new single "Playing It Safe," which kicked off last month. I'm also continuing to audition for television and movie roles, including a biopic about the one and only Elvis Presley in a movie called "The Last Train to Memphis," and hopefully locking in a deal with a major label.
Anything else you'd like to add about you/your music?
My debut EP "Whiskey Kisses" will was released digitally on iTunes and physical CD January 20, 2015.