By Western Shooting Horse contributor, Jennifer Hancock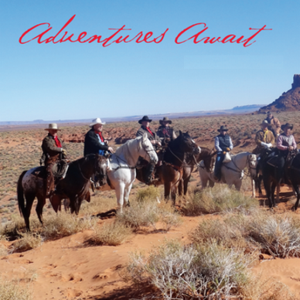 Steve and Marcie Shaw turned a hobby – and a passion for old west history and Western films—into a business, and they invite others along for a ride that will not soon be forgotten. The Shaws' business is called Great American Adventures, and they connect travelers with historically significant places through horseback rides. The company's catchphrase is "ride where legends rode."
This year, Great American Adventures has scheduled trips to Monument Valley, Utah; Tombstone, Arizona; Little Bighorn, Montana; Lincoln, New Mexico; and Durango and Silverton, Colorado. The trips are based on the historic rides and adventures of such real life people as Wyatt Earp, William H. "Billy the Kid" Bonney, Butch Cassidy and George Custer, and silver screen characters portrayed by John Wayne.
"We just have a ball," Steve says. "We're basically adults playing cowboy." But this isn't your ordinary dude ranch, head-to-tail, travel-only-at-a-walk trail ride. While participants aren't allowed to bring their own horses, riders are matched to horses given their ability. Tack is also provided, but riders may bring their own saddle if they choose. "If I get somebody that can ride well, I take them to the side when the terrain permits, and we will go lope a little bit," Steve says. "I like to do that, and it's fun to do."
The price ranges from $2,096 per person for the Monument Valley and Little Bighorn rides to $1,996 for the others. The price includes the horses, tack, wrangler, historians and three meals a day. "Each horse is matched to your ability," he says. "You do not go hungry. Not only are you getting barbecue, grilled steaks, Navajo tacos—wherever we go we try to get something that's good from the area."
Period dress is encouraged on most rides to create great photo opportunities and enhance the experience, but trooper dress is mandatory on the Little Bighorn ride for those participating in the reenactment.
While riders spend up to six hours in the saddle daily, their nights are spent in the comfort of a hotel. Participants are responsible for their own hotels and airfare or other transportation to the site. The Shaws are full of surprises for their guests.
"The people get more gifts—I'm like Oprah except I don't give out cars," Steve says. "Last year when we were celebrating the fifth year of our vendetta ride, they got gifts every evening."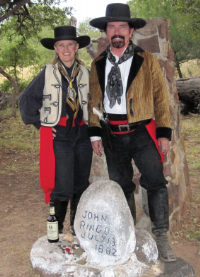 Occasionally they'll also have a raffle or a costume contest. "One rider was such a John Wayne fan, his grandchildren called him Duke," Steve says. "He asked on one of the Monument Valley rides if there would be a look-alike contest and of course there was. The costume contest—the best dressed from one of John Wayne's movies—has become so popular you should see these guys. It's fantastic."
Steve does all the legwork to arrange permits and permission through the Bureau of Land Management, state agencies and private land owners for the rides. He also searches for historians and guides to add extra entertainment.
"Our Navajo guide on the Monument Valley ride was born and raised in the Valley," he explains. "She still lives there in a hogan and her mother was John Ford's guide. As a little girl she was in the background in movies like Cheyenne, so she knows all the spots that I want to take everyone to see where John Wayne and John Ford made movies."
Steve decided to do things differently after his personal experience of taking a few trail rides where the wranglers and the horses go on the same trail, head-to-tail, every day for four months. He describes seeing the horses' heads hanging down and the wranglers' heads hanging down because they're bored to death. He had one customer tell him that the best thing about his Great American Adventure rides is that they take different routes every day. "I'll tell my wrangler, we haven't gone that way; let's go that way," he says. "Sometimes we end up in a box canyon and have to turn around and go back. But we have more fun that way."
"We take the trails less traveled. That's why I've had people on my vendetta ride five times out of the five years. I know they like what I do and I don't want them to get bored. Every year I'm looking to see how I can improve the ride to make the ride better. I tell people that if you ride well, you will not be bored," he adds. "We're just having so much fun. We mix a lot of movie myth with historical facts."
An example of the blending of legends and truth occurred on last year's Tombstone ride. Steve had a Johnny Ringo impersonator/historian meet the riders at Ringo's gravesite outside of Tombstone.
"He said he had never been out there, and I told him he can't be a true historian until he did," Steve says. "I convinced everybody that Johnny Ringo's gravesite is supposedly haunted. I said, 'Once you visit, the only way to escape his ghost from haunting you is to take a shot from his favorite rye whiskey.' "
Steve produced two bottles of whiskey and provided souvenir shot glasses for all the riders. The riders left with historical information about Ringo and the bonus of an entertaining memory.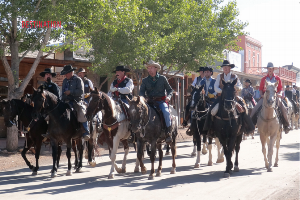 In 2014, Great American Adventures is going to Silverton and Durango for the first time. "The first Western that was ever on film in 1903 was called The Great Train Robbery," Steve says. "This will not be a reenactment but an attempt to relive the old West—robbing trains and robbing mines. I think I have more fun creating these rides and putting them to the test than I do anything else.
"I want to go have fun, and I want other people to have fun," Steve says of his motivation. "And I want people to know that they can come back, and they won't see the exact same thing every time."
For more western lifestyle content and Cowboy Mounted Shooting, pick up a copy of Western Shooting Horse's June/July issue available on stands now or visit www.westernshootinghorse.com.To learn more about Great American Adventures, click here.
Photos provided by Western Shooting Horse.