An Inaugural Weekend for J.B. Mauney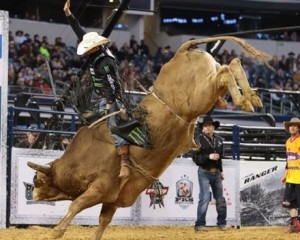 Professional bull rider J.B. Mauney is most recently known as the 2013 PBR World Champion but after this past weekend, he has two more titles to add to his belt:  the first bull rider champion at the inaugural THE AMERICAN and a Team Wrangler member.
Before Mauney rode Cowtown Slinger for a winning 90.5 points Sunday in Arlington, Texas, he donned a pair of Wrangler Western jeans signifying that he is an official Team Wrangler member, a partnership that began the day before March 1.
As an exclusive spokesperson for the brand, Mauney will join the ranks with other PBR favorites such as Silvano Alves and Austin Meier and will be featured in the brand's upcoming marketing campaigns.
THE AMERICAN, known as the richest one-day rodeo in the history of Western sports, couldn't have been a better stage for Mauney to kick off the partnership. Entering the finals in the fourth position, Mauney dominated his bull to surpass his leading competitors and clutch the title and the $100,000 prize. Was it his sheer talent and determination that helped him win? Most likely. But there are some who like to think it was because he wore his Wrangler jeans for the first time in competition, joining hundreds of champions who have done the same since 1947.
For an inside look at Mauney, check out this Wrangler Network exclusive video where you can hear from the cowboy on all things bull riding.
And tune back to the Wrangler Network for more behind the scene videos of J.B. Mauney.