Bass Fishing Tips for the Fall
By Wrangler Network contributor and professional angler Ron Johnson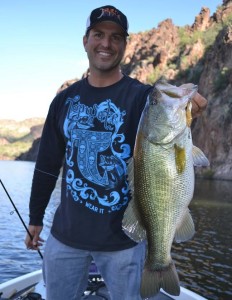 As we approach the late summer and move into the fall, most parts of the country will see the leaves changing and the temperature dropping; but that does not mean that fishing is about to slow down. In fact, it's just the opposite. The fall is regarded as one of the best times to go bass fishing. So if you're not afraid to fight with the cooler morning temperatures or sometimes unstable weather, then you will be rewarded with some of the best fishing of the year.
In the fall, bass are on the move, feeding more frequently and gorging themselves throughout the day as if they were at an all-you-can-eat buffet. Depending on where you live, shad, herring, shiners, or other baitfish (fish that bass feed on) may be on the menu, so do a little research before you hit the water.
Typically, some of the best methods to find and catch bass have been to use electronics, or just by keeping a watchful eye and scanning the surface of the water. In many instances, bass will give away their location by pushing baitfish up to the surface and bursting out of the water, which can last a few seconds up to several minutes. When bass are active like this, while they are feeding, it is the perfect time to throw out a topwater lure such as the Yo-Zuri 3DB Popper in clear or shad style and a 3DB jerkbait. Bass in a feeding frenzy will often strike the instant your lure hits the water because they are competing with the other fish for food.

When the use of electronics is not an option, cover water quickly targeting key areas with a crankbait, spinner bait or a casting spoon which can help you locate these active schools. A casting spoon, such as a Kastmaster in 1/2 ounce, is one of the most versatile lures to use because it covers a range of underwater depths. With a casting spoon, you can also change from a cast-and-retrieve approach to a vertical jig presentation, which is useful when fish are located directly below the boat in deeper waters. By experimenting with the methods mentioned above, you can quickly figure out your preferred method by continuing to experiment with different lures that have flash (type of jigging lure) or by mimicking the natural forage in the body of water by using different types of bait. I am confident that if you hit the water this fall and throw some of these lure patterns, fall just may become your favorite time of the year.

Good luck!