Wrangler Network — December 22, 2015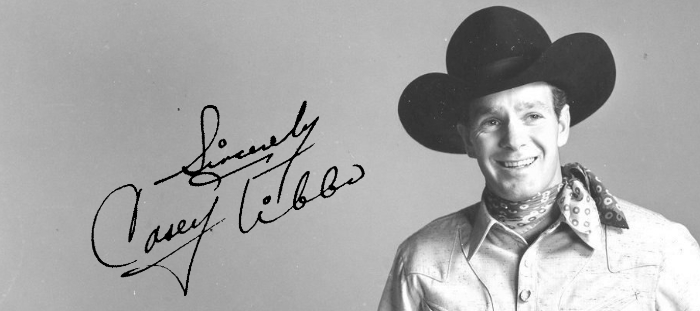 Floating Horses: The Life of Casey Tibbs documentary film has become one of the most anticipated rodeo movies in recent years and is due for public release in early 2016. Rare rodeo footage, classic movie scenes, and famous photographs from the 1950s will adorn the screen as the finest historians of Casey Tibbs, professional rodeo, and Western film express their opinions on "America's most beloved cowboy". Deb Copenhaver, Billy Etbauer, Charlie Daniels, Steve Ford, Baxter Black, Red Steagall, Jim Korkow, Gail Woerner, Dean Smith, Edd Hayes, Mike Warner, Alex Cord, Billie Sutton, Wyatt McCrea, Jamie Nudie, and Cleo Harrington are a handful of the 31 interviews featured in the film.
Known as the "Babe Ruth of rodeo," Casey's flamboyant lifestyle included plush, purple Cadillacs and flashy cowboy attire. Akin to riding a wild bronc in competition, Casey's unpredictable life had its grand victories and cheerless crashes. Tighten your cinch and get ready to "Let'er Buck!"
If anyone would like to interview Justin Koehler for a live or recorded TV show, radio broadcast, or written publication you can contact Koehler by email at floatinghorses@gmail.com. In addition, Koehler has personally conducted all fundraising efforts for Casey's film and is still accepting contributions from anyone who would like to see Casey's film reach its full potential. Contributions received from individuals and businesses have ranged from $5 – $5,000. Large or small, any contribution will be greatly appreciated and put directly towards the making of Floating Horses.
Justin Koehler, a South Dakota native, lives and operates in the Denver production scene working with projects airing on History, Discovery, Weather Channel, as well as historical films for the United States Military and the National Park Service, which includes the 2014 PBS series, Civil War: The Untold Story. Koehler's preceding documentary, The Buffalo King: The Man Who Saved the American Bison, is an award-winning documentary on the film festival circuit, Internationally screened, and garnered PBS distribution throughout the United States.