Dude Ranches Across the Country Treat Deserving Families to "WOW! Experiences®"
By Wrangler Network contributor the Dude Ranchers' Association (DRA)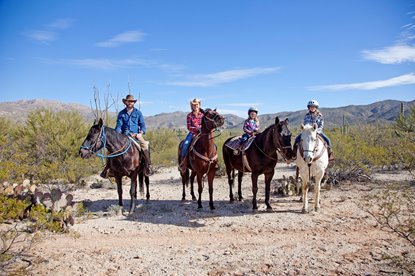 According to the American Cancer Society, more than 1,500 Americans die of cancer each year. Many of these cases result in young children losing their mom or dad, an often-overlooked population. The Jack & Jill Late Stage Cancer Foundation (JAJF) was founded to serve children who have a parent suffering from late stage cancer by providing them a "timeout" from the disease. In an effort to support the cause, the Dude Ranchers' Association (DRA) jumped at the chance to partner with the Jack & Jill Late Stage Cancer Foundation (JAJF) to provide "WOW! Experiences®" to families during a difficult time. Since 2011, the DRA's member ranches have given 21 families a timeout from cancer and much-needed time to smile, laugh and make memories together as a family.
The Dude Ranchers' Association was founded on several core principles, one of which is 'heart.' Dude ranches put this into practice each and every day through the incredible compassion and goodwill they show all of their guests. The DRA has been honored to provide families that have parents with late stage cancer an once-in-a-lifetime family bonding experience to help provide some joy during an extremely difficult time. Dude and guest ranches are well known as being ideal destinations for family vacations. From the variety of activities and picturesque, remote locations, dude ranches help families unplug and reconnect with each other. This is likely the reason why many families over the years have requested a dude ranch for their WOW! Experience.
The Fisher family, who visited Tanque Verde Ranch in Arizona last year, had this to say about their trip: "The timeout in the Wild West was certainly a vacation the kids will remember for a lifetime."
When a parent is diagnosed with late stage cancer, the entire family's world is turned upside down. JAJF WOW! Experiences that include vacations, VIP tours, privileged guest appearances, tickets to musical performances and sporting events, and celebrity meet-and-greets. These experiences help families create cherished, lasting memories. For many families, this is their first and only chance to gain a sense of normalcy away from cancer in years, and is the primary reason oncologists across the country prescribe JAJF as part of treatment.
Each and every WOW! Experience is customized by JAJF based on the recipient family, their trip preferences and time constraints. Ranches that have hosted JAJF families over the years include Flying E Dude Ranch, Tanque Verde Ranch and White Stallion Ranch in Arizona; Colorado Trails Ranch, Elk Mountain Ranch and Sundance Trail Guest Ranch in Colorado; Red Horse Mountain Ranch in Idaho; Lone Mountain Ranch in Montana; and Crossed Sabres Ranch, Paradise Guest Ranch and Red Reflet Guest Ranch in Wyoming.
For more information on JAJF, visit JAJF.org, or donate online. For more information on the Dude Ranchers' Association and its member ranches, visit duderanch.org.