Fifty Years of Living Western
2015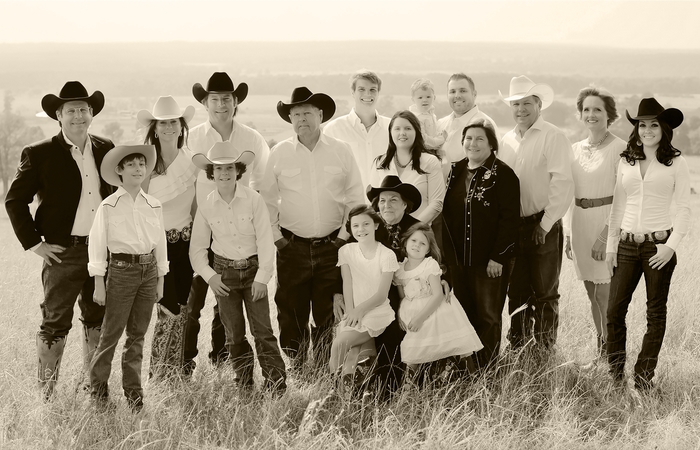 With the new Rockwall, Texas store opening, Cavender's has 71 stores and continues to grow. James Cavender's voice is still often heard in the halls of Cavender's headquarters and Pat Cavender stages and styles each store adding the charming finishing touches to the signature western style.
Thanks for joining us in our journey over the past 50 years.
From our family to yours…Happy New Year!
To celebrate the fiftieth anniversary of Cavender's, the Wrangler Network presents a look back at the past fifty years of living the Western way. We'll be counting down from 1965 to today the memories and big moments in western life from songs to movies and everything in between. Join us now on a trip through time!
See more years:
---
A Western Wear Empire Using Common Sense values
By Bob Welch, American Cowboy Magazine
James Cavender is 84 years old. He's the kind of man his friends and family lovingly call a character. He's rubbed shoulders with foreign heads of state, rodeo champions, captains of industry, and music stars. Though officially retired, he remains sharp-witted—a tough trader with a keen eye for commerce—and the patriarch of a family business that has carved out a serious niche in cowboy culture.
This year marks the 50th anniversary of Cavender's Western stores. Started in 1965 in Pittsburg, Texas, by James and his wife, Pat, the company has grown to nearly 70 stores in eight states. But despite that growth, the company has stayed true to its roots. Those roots run deep and tap into traditions of hard work, treating folks right, business savvy, and, above all, family.
Today, James and Pat's three sons—Joe, Mike, and Clay—run the business. But when James arrives in the Cavender's home offices in Tyler, Texas, he still makes waves. First, he's got a rodeo series he thinks the stores should sponsor. He seeks out the company's marketing man, Terry Cooper, to discuss the idea. Next, he's got a pair of gloves he came across while on a hunting trip and wants his youngest son, Clay, to look into carrying them in the store. He's got a case of East Texas honey that needs to be distributed to the employees. But his eyes really twinkle the first chance he has to mention that he's sold four pairs of boots this week and needs the orders fulfilled. (MORE)
---