Hall of Famer Dale "Tuffy" Cooper Passes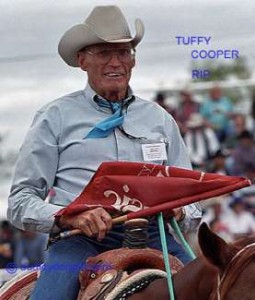 Dale "Tuffy" Cooper, considered a pioneer in the sport of roping and patriarch of one of the greatest rodeo families in the history of the sport, died Nov. 17 at his home in Monument, N.M., after breaking his hip in a fall. He was 88.Cooper, an inductee in the National Cowboy Hall of Fame in Oklahoma City and the Texas Rodeo Hall of Fame in Fort Worth, was exceptional in all three roping disciplines and was also widely respected as a teacher of the sport, an announcer, rodeo judge and radio reporter.Cooper's eldest son, Roy, was an eight-time world champion cowboy, his other son, Clay Tom, twice qualified for National Finals Rodeo as a tie-down roper and his daughter, the late Betty Gayle, was also a champion rodeo competitor. Grandsons Clint, Clif and Tuf have a combined 14 NFR qualifications as tie-down ropers.
Tuffy's namesake, 23-year-old Tuf, has won the last two gold buckles in the family"s signature event and heads into next month"s Wrangler NFR again leading the tie-down roping world standings.
"He is the reason I get to live this life," Tuf Cooper said on his Facebook page Nov. 18. "I will be forever grateful for him and the things he taught me. I always called him before a big roping for advice and he would always send me handwritten letters before the Finals to encourage me.
"Big Tuffy blessed so many others with his stories and laughter. He left a legacy behind that will never be forgotten. He always told me "be the best you can be," and I will continue doing that as long as I live. Thank you, Lord, for giving me the honor of being his grandson. I promise to live up to his standards always."
Tuffy Cooper started competing in rodeo at 10 years old, along with his brother, Jimmie, (their father was a rodeo producer) and he was one of more than 20 family members who competed in the sport through three generations.
As a student at the University of New Mexico, Cooper helped found the National Intercollegiate Rodeo Association. He was the reserve tie-down roping champion at the first College National Finals Rodeo at San Francisco"s Cow Palace in 1949 and won the title there a year later.
He joined the Rodeo Cowboys Association (precursor to the PRCA) in 1946 after three years" service in the Air Force during World War II, stationed in the South Pacific.
Over the course of his ProRodeo career, he won tie-down roping titles in Tucson, Ariz.; Albuquerque, N.M.; Ogden, Utah; Red Lodge, Mont.; Lubbock, Texas; Little Rock, Ark.; and Gallup, N.M.
After retiring from competition, Cooper served as a spokesman for the PRCA, wrote occasional columns for the ProRodeo Sports News and, in 1994, published a booklet of cowboy sayings, called, "If You Ride a Slow Horse, You Need a Long Rope."
Memorial Services for Cooper will be held at 2 p.m. (MT) Saturday Nov. 23 at the First United Methodist Church, 200 E. Snyder Street, Hobbs, NM 88240.
In lieu of flowers the Cooper family has formally requested memorial donations be made to: The Cooper Rodeo Foundation —
The Cooper Rodeo Foundation
ATTN: Tuffy Dale Cooper Memorial Fund
PO BOX 457
Decatur, TX 76234
Story courtesy PRCA