Kid Rock – Nashville Rebel, American Patriot
Kid Rock – What the heck is a Motor City rebel doing in the Western-lifestyle-loving pages of Cowboys & Indians? This part-time Nashville cat is a better fit than you might think.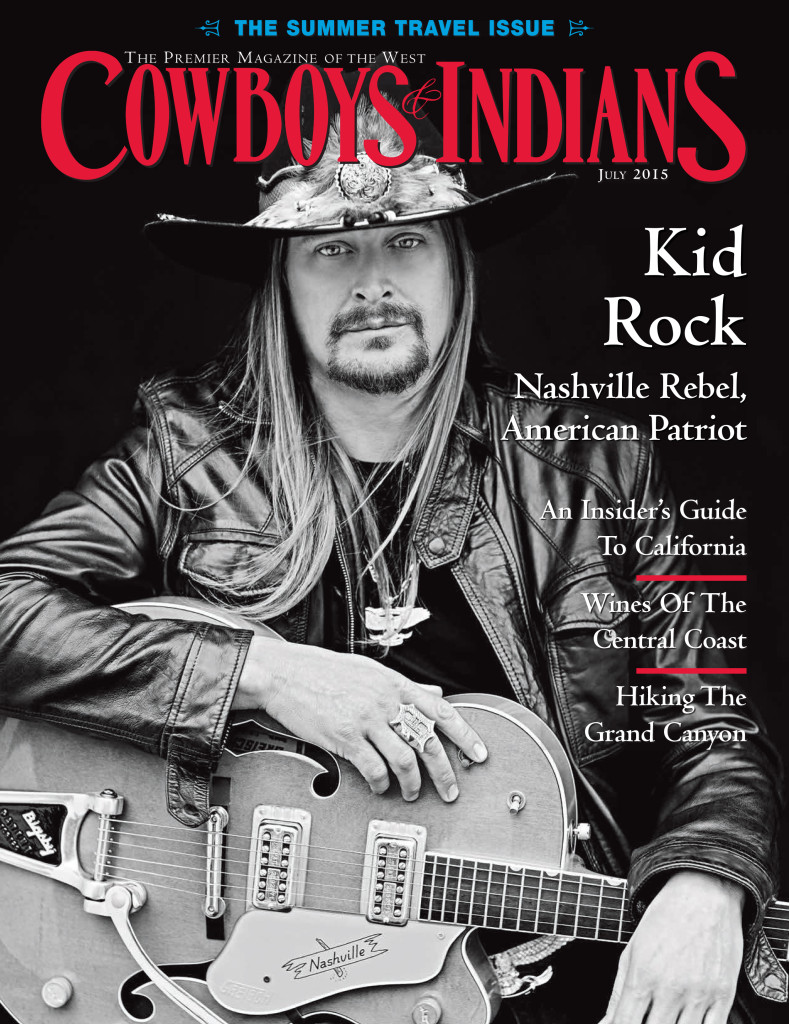 By Cowboys & Indians contributor Joe Leydon
Photography by Clay Patrick McBride
As he proudly proclaimed back in "Bawitdaba," his rap-metal smash hit of 1999: His name is Kid Rock. But there's more than a touch of country in his heart — and in his music.
"You know, I've never made a country album," the 44-year-old musical maverick concedes, "and I don't plan to. But I have been standing on the corner in Nashville, after having several hits on country radio, and hearing everybody say, 'Who ate the last Twinkie?' And I'm standing on that corner with cream filling on my lip."
Indeed, although he originally attracted attention with rock-the-house hybrids of rap, hip-hop, and Southern rock on albums like Grits Sandwiches for Breakfast (1990) and Early Mornin' Stoned Pimp (1996), Kid Rock started adding country flavor to the mix as early as 1998, when he included "Cowboy" (a country-rap tune credited with influencing Jason Aldean, Big & Rich, and other Nashville stars) and "Only God Knows Why" (a weary road ballad later covered by David Allan Coe) among the prime cuts on his breakthrough album, Devil Without a Cause.
But wait, there's more: "Picture," a duet with Sheryl Crow introduced on Kid Rock's Cocky album, was nominated for Vocal Event of the Year at the 2003 Country Music Association Awards. And "All Summer Long," his all-time biggest hit single, reached No. 4 on the country charts — and inspired a hilarious music video that received heavy airplay on Country Music Television and won the 2009 CMT Award for Best Wide Open Country Video of the Year.
Don't misunderstand, though. Kid Rock isn't likely to be inducted into the Grand Ole Opry anytime soon. And while he's such an enormous fan of The Man in Black that he actually has a song titled "Johnny Cash" on his latest album, First Kiss, he has no plans to walk the line as a pure (or even an impure) country artist for the rest of his career.
"I never want to be labeled," Kid Rock says. "I just love music, from rap to rock-and-roll to country and everything in between. It's just kind of been a blend that I've really enjoyed — trying to hold onto my craft and be a scholar of the music at the same time."
He's been at it since he was a teenager in Michigan. Born Robert James "Bob" Ritchie, the future Kid Rock grew up north of Detroit in the rural village of Romeo, as the son of William "Bill" Ritchie, owner of several local auto dealerships, and Susan Ritchie, whom he credits with instilling in her son a spirit of philanthropy. (The Kid Rock Foundation raises funds for various worthy causes, including a recent campaign to send "Kid Rock care packages" to U.S. military personnel stationed overseas.) He didn't come from a musical family — well, not unless you count a grandmother who occasionally performed a Minnie Pearl tribute act in her community. And when young Bob announced his plans to launch a showbiz career as a club DJ, you could say his parents were a tad skeptical.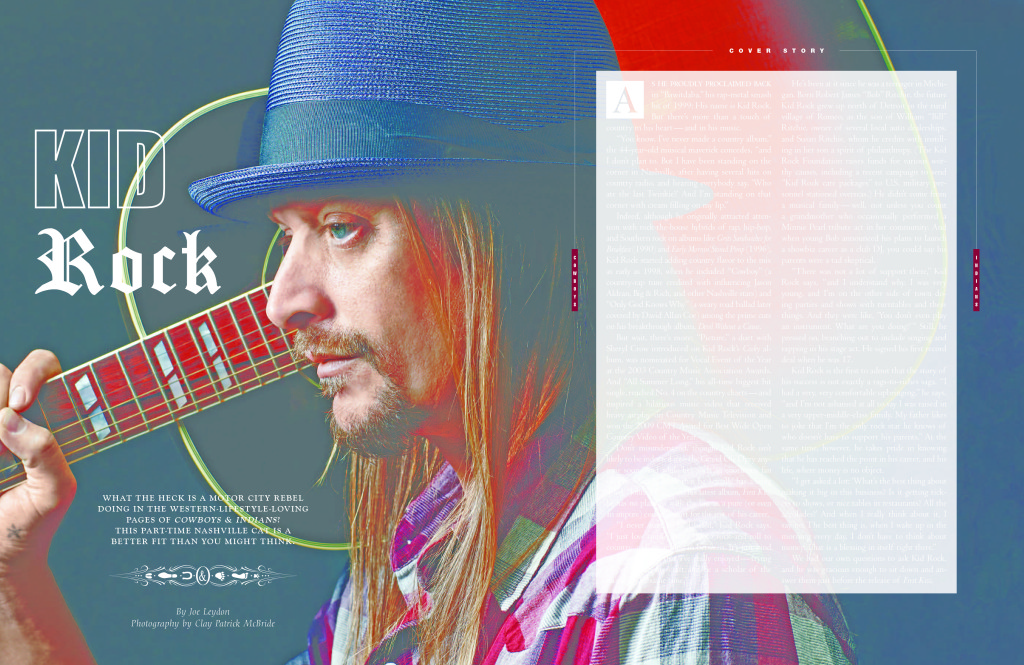 "There was not a lot of support there," Kid Rock says, "and I understand why. I was very young, and I'm on the other side of town doing parties and shows with turntables and these things. And they were like, 'You don't even play an instrument. What are you doing?' " Still, he pressed on, branching out to include singing and rapping in his stage act. He signed his first record deal when he was 17.
Kid Rock is the first to admit that the story of his success is not exactly a rags-to-riches saga. "I had a very, very comfortable upbringing," he says, "and I'm not ashamed at all to say I was raised in a very upper-middle-class family. My father likes to joke that I'm the only rock star he knows of who doesn't have to support his parents." At the same time, however, he takes pride in knowing that he has reached the point in his career, and his life, where money is no object.
"I get asked a lot: 'What's the best thing about making it big in this business? Is it getting tickets to shows, or nice tables in restaurants? All the accolades?' And when I really think about it, I say no. The best thing is, when I wake up in the morning every day, I don't have to think about money. That is a blessing in itself right there."
We had our own questions to ask Kid Rock, and he was gracious enough to sit down and answer them just before the release of First Kiss.
To read more from Kid Rock's interview in the July 2015 issue of Cowboys & Indians, visit www.cowboysindians.com.