Meet McKenzies Mill, "Southern Fried Rock n' Roll"
If you like country music with a rock n' roll twist, look no further than Ryan and Justin Harris, the brothers behind McKenzies Mill. Ryan and Justin, originally from West End, North Carolina started their band in 2005 and named it after the street that they grew up on.
The duo is currently based in Nashville, where they are working on an EP produced by New Voice Entertainment. They were named one of the 2014 CMA "Artists to Watch".
The brothers self-describe their music as "country-fried rock n' roll", and this spring will play shows across the South, including Virginia, North Carolina, Georgia, Mississippi, Tennessee, and Kentucky. For a full list of dates, visit www.McKenziesMill.com or check out McKenzies Mill on Twitter and Facebook. You can also listen to McKenzies Mill on ReverbNation.
Wrangler Network sat down to ask the brothers a few questions about McKenzies Mill and their music.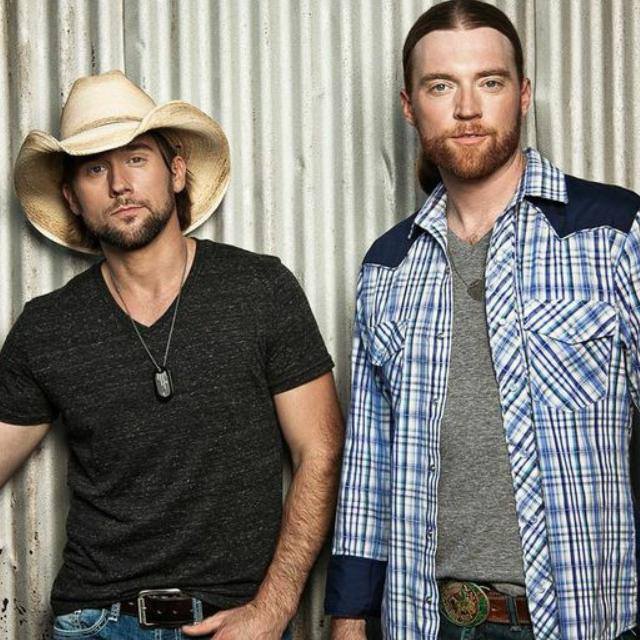 WN: How old were you when you started playing guitar and singing? At what point did you know that music was something you wanted to do not just as a hobby, but as a career?
Ryan: "For some reason as a kid, I just wanted to sing. I grew being a bit of a ham and took almost every opportunity to sing and perform for people. I always knew, even through high school and college that I wanted to be an entertainer. I guess I just didn't know to what extent I was going to do that until Justin and I started playing together and that "for fun" feeling became a dream."
Justin: "I was a bit of a late bloomer. I got my first guitar at 19 because more than anything, I wanted to write songs. Actually, I wanted to write one song, for my girlfriend at the time. Any dude that tells you he learned to play guitar for any reason than impressing a girl is lying!
After college Ryan and I recorded a very rough demo of a few of our songs we had written. We gave them out to friends, played them at parties, et cetera. We booked our first acoustic show at our hometown bar, and of course tons of friends and family showed up. From the first time I heard a large group of people sing our songs back to us, I was hooked. We decided to move to Nashville shortly after."
WN: Who are your biggest musical influences, past and current artists? What are your favorite songs, or any particular sound you like?
Justin: "I could spend a month answering this question. My musical tastes are all over the place. Just shooting from the hip, I'll list a few…
Lynyrd Skynyrd: Guitar driven, honest songs. Rough around the edges.
Bruce Springsteen: I LOVE singer-songwriter rock 'n roll.
Waylon Jennings: He did it HIS way.
Willie Nelson: Probably my biggest "influence." I want to be Willie when I grow up!
Jason Isbell: Beautiful well-crafted songwriting.
I guess ultimately, If it's not contrived I'm gonna dig it. I like artists whose music is a direct reflection of themselves."
Ryan: "Justin and I differ a little on this one. I grew up riding around with my mom and dad listening to country radio a lot. I was always drawn to country entertainers such as Garth Brooks, Brooks & Dunn, and Tim McGraw. I also enjoy my outlaw country and rocking bands like Johnny Cash, Waylon Jennings, Lynyrd Skynyrd, Aerosmith, and I happen to LOVE Tom Petty! Who doesn't?"
WN: When you're not playing, what else do you like to do – any favorite sports or hobbies?
Justin: "We both work out pretty regularly. I'm constantly writing, and I love to read and love to golf even though I'm terrible. And I enjoy a good beer…if that's a hobby."
Ryan: "I enjoy all kinds of exercise and outdoors experiences. I'm a huge movie watcher – always renting something or headed to a theater when I have time. We both enjoy golf, hunting with our father, college sports (GO ECU!), Duke Basketball (me), and the NFL."
WN: Do you have any rituals before you go on stage?
Justin: "I do not. I am not a superstitious dude. Every show is different."
Ryan: "I do. I fist bump every one of my band members right before we perform. It's mostly a moment of camaraderie that's become a ritual over the years. I don't think it necessarily means that I'm superstitious, although I may be….a little!"
WN: Can you tell us a little about your songwriting process? Do you the lyrics usually come first, or the melody?
Justin: "Every song is different. Usually, it's a general idea that you work towards to craft a song around. Sometimes it's a melody or a guitar hook. Typically, my favorite songs I've written are a cool idea or lyrical hook that we craft into a song."
Ryan: "I would say for me, being steered more from a singer mentality, that I tend to hear a melody and music in my head more times than not. That being said, a song can start in many different ways. Co-writing has always been a coin toss."
WN: Anything else you'd like to add about you/your music?
Justin: "We typically describe our sound as "southern fried rock-n-roll" – country songs with screaming guitar solos."
Ryan: "Southern Fried Rock-n-Roll" is definitely the way that we most often describe our music. For the people that see us live, I like to think that most of them walk away thinking, "man, those country boys can rock!" If they are, then we're doing it right."