By Wrangler Network contributor Miss Rodeo America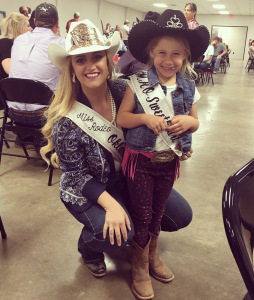 Oklahoma's rich rodeo history began long before hosting the National Finals Rodeo for 20 years. Oklahoma has always thrived in the Western Industry. Home to the American Quarter Horse Association World and Youth World Shows, NRHA Futurity, Grand National Morgan Horse Show, Barrel Futurities of America and many more events making Oklahoma the horse show capital. Oklahoma is also the home to the National Cowboy and Western Heritage Museum, formally known as the National Cowboy Hall of Fame. Oklahomans are known to make history such as entertainer Will Rogers, and the legendary World Champions Jim Shoulders and Lane Frost. Continuing with the western tradition of wholesome values and true grit, there's no doubt I was meant to be a cowgirl.
I may be from the Sooner state but I am a cowgirl through and through. From the small town of Collinsville Oklahoma, I am Sydney J Spencer. Coming from a true rodeo family I am the 4th generation cowgirl attending PRCA Rodeos. My great-grandpa was an RCA member and my Papa as well as my father are PRCA gold card members competing in steer wrestling and tie-down roping. My earliest memories are in the backseat of a truck headed to another rodeo. Summer vacations in my family were spent on the road headed from one rodeo to the next.
Johnny Cash sang a song titled "I've been everywhere" and since I haven't quite been to all the places Mr. Cash sang about, I want to share with you my own version of "I've been everywhere"! Houston in the Astrodome, Sisters, Pretty Prairie, Ft. Worth, Cody, in Corpus Christi I took a jellyfish home for show & tell, Vernal, Isanti, Dayton, Springdale, I tell ya, I've been here and there. Deadwood, Topeka, Burwell, Greeley, Dodge City, won the mutton bustin in Colby, Casper, Williams Lake, Sidney. Hang on there's more to name. I've visited the Corn Palace in Mitchell, seen Mount Rushmore and the face of Crazy Horse, even driven through Yellowstone. I've experienced Belle Fouche during Cowboy Christmas, and in Spooner I was giving pony rides. I've watched the craziness of the chuck wagon races in Calgary, cheered as my dad won Ponoka and watched as the Thunderbirds roared over Cheyenne- just to name a few. My childhood was an adventure from one arena to the next.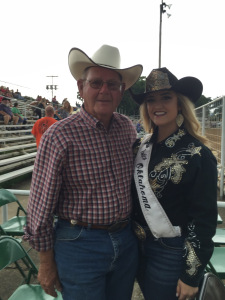 When I wasn't with my dad, my time was spent at my Papa's riding horses as he trained tie-down and barrel horses. Growing up, I competed in barrel racing, pole bending and goat tying at junior rodeos. After years of watching Miss Rodeo America, my desire to be a rodeo queen blossomed. I started my rodeo queen journey at the age of 14 and I held several local titles. I then went on to be crowned Miss Rodeo Oklahoma Teen 2010. A year traveling to Oklahoma PRCA rodeos put the love of being a rodeo queen even deeper into my heart. There isn't anything quite like presenting the symbol of our country and freedom in front of a crowd as they bow their heads in prayer and sing our national anthem together.
This year one of my goals traveling as Miss Rodeo Oklahoma was to attend a few big rodeos that I wasn't able to growing up because of school. I am one Pendleton Roundup shy of reaching my goal. My first was attending the National Western where I rode in the opening ceremonies. A memory I will forever treasure. I then traveled to Kissimmee where I let inhibitions of all wild things crawl away, holding alligators, tarantulas and boa constrictors while I was there. I spent a week in Houston working with Cervi Championship Rodeo where I fulfilled another dream of riding in NRG stadium. I visited the largest rail yard in North Platte and rode in the shortest but longest parade in small town Abbyville. Traveling to all those wonderful rodeos and being welcomed by the committees has been incredible, but nothing quite resembles a rodeo back home. I've carried Old Glory at Oklahoma's own Hall of Fame rodeo in Guymon, became soaked through from a storm moments before entering the arena in Claremore, which happens to be the PRCA two-time Small Rodeo of the Year. I went home to the Osage during Ponca City's 101 Wild West Rodeo and I'm looking forward to riding with the Longhorns during the Woodward Elks Rodeo. In a few short weeks, I'll fulfill another dream as I make my way down the track at the Daddy of Em' all.
I've been incredibly blessed and humbled this year as Miss Rodeo Oklahoma. With this job comes great responsibilities and with my servants heart I chose to be a rodeo queen over a competitor so I could gather fans to love the sport as much as I do. My love for the sport of rodeo is why I enjoy being a rodeo queen, but watching young fans become captivated of the thrill is what drives my passion. To some rodeo is a hobby, but to me and my family, rodeo is a lifestyle. This Oklahoma cowgirl was born into rodeo and that's just something you can't get rid of.
Always Be Kind and God Bless,
Sydney J Spencer
Miss Rodeo Oklahoma 2016