Meet The Queen; Washington
By Wrangler Network contributor Miss Rodeo America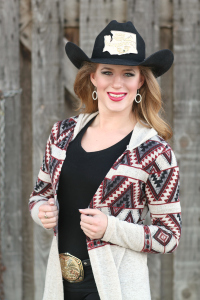 Philippians 4:13 "I can do all things through Christ who gives me strength"
When I learned to believe in myself, I became unstoppable, I became Miss Rodeo Washington 2016. What an honor I have to join the women before me that got to wear the Washington State crown, to represent rodeo and the Evergreen State. I'm Macy LaValley, and I make my home in the incredible Lilac City of Spokane, Washington.
My passion for rodeo and being a rodeo queen gave me a love for communication and being in the public eye. I am currently a student at Eastern Washington University in Cheney, pursuing a degree in Communications and Public Relations.
When I began my quest to be the first lady of the Evergreen State, I was often faced with the same question; "Will not being from Washington affect your chances?" I didn't believe they would, I thought if anything, they would better my chances. Not being from Washington gave me a different outlook on the state. I was able to fall in love with it because of its beauties and attractions, not just because I was raised there. I have been able to look at the state and explain it with the eyes of a tourist, not taking any aspect of it for granted. Did you know that Washington State has four of the five largest floating bridges in the world? I often ask this question to people that have lived in this state their entire lives, and I am surprised by their response every time.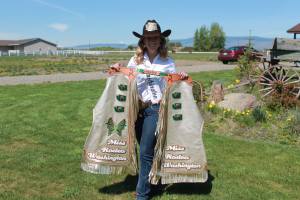 With the move to my new home in 2008, my journey to the crown was long, winding and sometimes unpaved. I am from the small town of North Pole, Alaska. Although I grew up with horses, rodeos were once in a blue moon. This prevented me from knowing about the sport of rodeo until I was 15. I did, however, grow up on the back of a horse. For as long as I remember, I was riding and competing. I competed in 4-H for 12 years, was rated to a C-1 in Pony Club, competed in open shows and yearly competitive trail rides. I attribute all of these experiences to helping me bring home the state crown. Who would have thought that years of growing up in an English saddle and clearing fences would help me become a rodeo queen. I've learned that every detail, no matter how small, helps one to grow.
What I fell in love with about rodeo, was that they have the power to bring people together. Along with making everyone feel like part of the rodeo family. That is why I have such a passion for exceptional rodeos. They allow people with disabilities to be part of the experience, events, and family. I have a brother that has Cerebral Palsy, and he loves being included in things; exceptional rodeos give him, and others, the ability to be part of the "rodeo community/family."
Two things that made the largest impression on me is when I learned that many rodeos begin their performance with prayer. For one moment, we are able to bow our heads and openly pray for the sport, cowboys and servicemen and women. And, at every rodeo, we are able to join together in a choir of voices as we proudly sing the National Anthem. As an outsider who was looking in on a new world, this became an important part of my journey. And even more of a reason to represent the sport of rodeo.
Who knows what my future holds, where I'll live or what I will do for a living. All I know, is that this year is one that I have worked hard to achieve, and I promise to live everyday of it like an adventure.
Adventure awaits, so get out there and get going! Macy LaValley Miss Rodeo Washington 2016