Meyer Lemon Poached U.S. Farm-Raised Catfish with Citrus Spinach Salad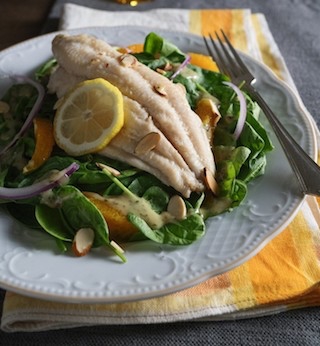 It takes less time to say the name of this recipe than it does to prepare it, and I promise you the zing of this flavorful dish will bring great delight. The April Showers for this yummy combination is sealed with a perfect vinaigrette that even the kids will find yummy. Ok, so maybe the spinach is pushing it a little and you can substitute iceberg for the little ones. Let's talk poaching for a second, and I for one, thought it was either illegal hunting or some specialized cooking method that I would NEVER try. Ha! Lets clear up this misconception now, by realizing that you only need to do the following (taken directly from the recipe).
1. In a large skillet,

COMBINE

broth, wine, lemon juice, thyme and peppercorns and simmer over medium heat.
2.

ADD

catfish; Cover and poach for 6 minutes, or until done. Remove fillets and let cool slightly.
Easy enough? Yeah, thought so. So get ready for this sweet, light, delicious and super healthy dish for 2018 and you can boldly put this in front of your most distinguished guest as well.
Step out of the boat… Learn more
I always check the label to make sure it's U.S. Farm-Raised Catfish and so should you. Enjoy 100% All-American!

Courtesy of Wrangler Network contributor David Sharp.
@sharpdlance