On the Road with Miss Rodeo South Dakota
By Melynda Sletten, Miss Rodeo South Dakota, 2014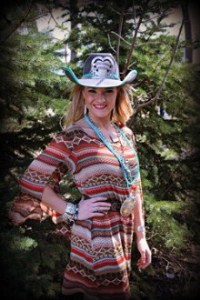 So there I was, a cowgirl enjoying the freedom of being able to drive to a rodeo! Just a few weeks ago, I embarked on a 13-hour thrilling adventure with Miss Rodeo North Dakota, Codi Miller, to attend the Ram National Circuit Finals Rodeo in Oklahoma City and to explore the state of Oklahoma a bit more. We had the chance to visit Express Ranch to see the beautiful Clydesdale horses that they are known for as well as touring historic Guthrie, Oklahoma's first capital, and the National Cowboy and Western Heritage Museum. Craving a little friendly competition, Codi and I also managed to fit in a little trapshooting.
However, at the rodeo, it was all business. The first night Codi and I had to fit in a practice with our horses as preparation is essential to any rodeo, for both the horse and the cowgirl. We also helped with carrying sponsor flags, signing autographs and making appearances at town events.
Shortly after the rodeo, Miss Rodeo North Dakota and I went to ride with Bronc Rumford, the man who brings most of the horses to the Miss Rodeo America competition. Unlike most rodeos, when I compete for Miss Rodeo America this December I will not be allowed to warm up or touch my horse. Instead, competitors must draw horses at random for the horsemanship portion of the contest. While the competition is still a few months away, my recent trip to Oklahoma taught me a valuable lesson that will help me compete and that's how to be "mental." By having a disciplined mindset, I will be able to display the best of my abilities within the 90 second time constraints.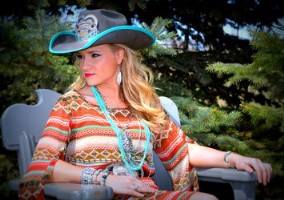 Right around the corner is the 59th annual Miss Rodeo South Dakota Pageant, June 30 to July 4 in historic Belle Fourche, S. D. I can't wait to see how this year's pageant unfolds as the winner will become my "Lady in Waiting," until she is officially crowned in January.
If you'd like to learn more about the pageant, contact Kathy Thompson (Pageant Director) at 605-641-8604 or Cindy Wilk (National Director) at 605-354-0735.
Until Next Time!
Photos provided by Melynda Sletten.