U.S. Catfish: Oven-Baked Blackened Catfish & Savory Cheese Grits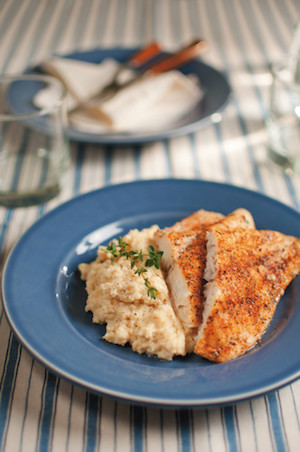 Southerners, its time to admit that one of the things we can't explain is our affection for SEC Football, Grits and Catfish! Well, now that the Georgia Bulldogs have been accused of impersonating a #1 team and Alabama continues to roll, we are incredibly grateful for Catfish and Grits. While folks on the coast would suggest shrimp and grits, forget about that for a moment and go with me on this amazing treasure of U.S. Farm-Raised catfish that is blackened and perched on top of a mound of savory cheese grits. Here's a little cheat I used since I wanted to go fast on the spices, use a little Chef Paul Blackened Seasoning on this one. US Farm-Raised proves yet again that catfish is not just fried and with all the turkey and leftovers coming, you are gonna need this to get you through November. Unlike most of the teams out there, this recipe can't be beat!
And remember to be aware of what you buy, I always check the label to make sure it's U.S. Farm-Raised Catfish and so should you. Enjoy 100% All-American!
Courtesy of Wrangler Network contributor David Sharp.
@sharpdlance