Rising Star: Kaley Twyford
In just two short years, Kaley Twyford has set her name on fire in the sport of mounted shooting.
By Western Shooting Horse contributor, Tiffany Kirchner-Dixon 
Qualifying for Worlds during her first season in the sport, moving up three levels in less than 18 months, countless local, state and world titles later, Kaley Twyford's journey was full of dedication, hard work and some bittersweet lessons. Along that path, she has found her purpose and love.
"I started shooting in March of 2012 when a friend encouraged me to attend a clinic" Kaley says. "From the first gun shot I was hooked ." Coming from the barrel racing world, Kaley was already an accomplished rider and adrenaline junkie.
"No one else in my family was into horses. I was 10 years old when my parents got me my first horse. Ever since then they have supported my love. My mom often accompanies me to mounted shooting events and volunteers her time keeping score or in many other ways. I couldn't have done this without my family and their support, I am very grateful."
Kaley, while able to maneuver through shooting courses well because of her background, found the biggest challenge in mounted shooting to be gun handling skills.
"When I first started shooting I could barely pull the hammer back three times in a row. I began dry firing everyday for ten minutes, always keeping in mind good form and aiming at something. It took me awhile to build up the strength in my hands, but once I did, everything came together and clicked."
Kaley believes for any athlete, that targeted strength training and healthy living is a big part of how well you compete. Not only has she increased her hand strength but she has a weight training program she has specifically tailored to maximize her muscles for mounted shooting. Something she believes has helped her to move up so quickly in the sport. She says this is especially important for women to consider, as many may not have used those muscles before and immediately "feel it" when they begin shooting.
Kaley's first year in competition she qualified for Worlds. "I felt very confident going into the competition. I thought I would do very well, and then I didn't. For me, it was a huge motivator. Nothing makes you want to win more than losing! It also made me realize that mounted shooting was something I wanted to do for the rest of my life."
Kaley had to figure out how to make that happen. "If I'm not practicing, the next girl is, and losing at Worlds amped me up to practice even more." She started taking clinics from top shooters like Tammy Billingsley, Annie Bianco-Ellett along with Rock and Cody Clark. At every clinic she walked away with a new bit of knowledge that has helped her to become a better shooter."I have new training drills and advice from pros for what to work on in competition."
Kaley also says that these mentors had great uplifting attitudes, something that really helped her. "Surround yourself with good people and good energy. Attitude makes a BIG difference! I love this sport and although it is a competition, I still want to have fun while I do it."
All these changes really began to pay off in her second and third seasons. Winning the New Mexico State MSA Overall championship, becoming the South Sound Mounted Shooters Ladies Non Pro Champion, taking home the Ladies Level 2 CMSA World title and the Ladies 3 U.S. Winter Championship Buckle. The other thing that had changed in Kaley's life, was her relationship status.
"Between work and riding I didn't have much time, so I decided to give the dating site match.com a shot." She was looking for someone specific who would fit into her new life, which demanded a lot from her. Enter her fiancé, Men's level One World Champion Mounted Shooter, Cole Salopek.
"Cole was a roper when I met him. I wasn't sure how our relationship would work out because he lived in New Mexico and I was in Washington. One of our very first dates was to go practice mounted shooting. After seeing him shoot for the very first time, I predicted he would win the men's level 1 world title. He was a natural." It truly was their mutual love for the sport that sealed the deal. Cole did indeed win the championship that year, and he now loves the sport as much as Kaley does.
"Both of us are extremely competitive. We make little side wagers who will have the best times at a shoot. I want Cole to win more than anyone else in the world! I get more nervous watching him run than I when it is my turn!" Competing together has been good for them. They are both goal setters and they often sit and contemplate their next moves together.
"This year my goal was sponsorship" says Kaley. "I wanted to work with companies I believe in and already used."
Since then, Kaley has had top companies collaborate with her, including Luan's Leather, a local and internet company, specializing in beautiful custom handmade tack sets perfect for the mounted shooter or barrel racer.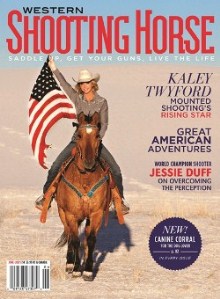 Kaley's goals for the future include more sponsorships with companies she believes in. She also loves meeting new people, so traveling to mounted shooting competitions across the US are on the horizon. She competes in both the MSA and CMSA circuits and is a member of three different shooting clubs as well as a board member for two of them. As of now, she is splitting her time between two states, spending time in each Washington, her home state and New Mexico, Cole's stomping grounds. This allows her to reach many competitions across the United States.
And as for Mounted Shooting's cutest couple? "Cole proposed to me on horseback. We were riding and shooting in the arena when he called me over. I saw he was off of his horse and thought that seemed odd. I was completely surprised and excited when he proposed. It was shocking to hear he had been riding the whole time with the ring in his pocket!"
"I'm in this sport for the long haul. It's not just about making it to a level 6 shooter, but growing along the way with my horse and Cole. I would like to bring more mainstream attention to the sport with sponsorships, and through my new apparel company 'Bulletproof'. It's an accessory and clothing company for girls who like guns. Everyday I think of more ideas to bring to into the company. I can't wait to see where it all goes."
For more mounted shooting news and western lifestyle content, pick up a copy of Western Shooting Horse's June/July issue available on stands now or visit www.westernshootinghorse.com.