Standings Shuffle: Eight Move Up in Top 15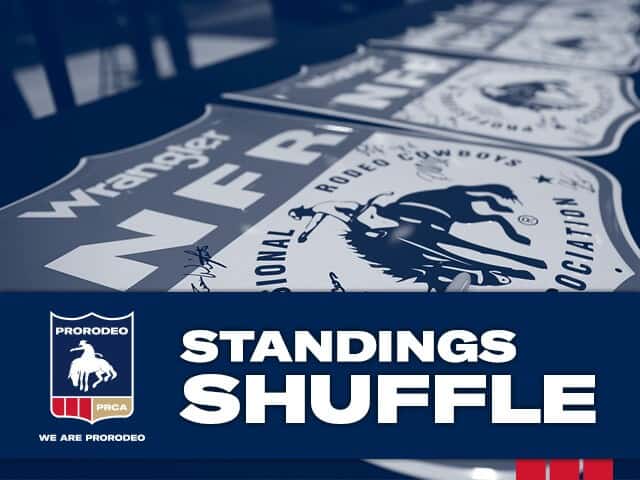 The 2019 season officially started Oct. 1, and as each of the RAM Circuit Finals rodeos concluded, cowboys established a solid base for launching their trek down the rodeo road.
From Jan. 15-23 there were four rodeos worth a collective $115,304, not counting the National Western Stock Show and Rodeo in Denver that's set to pay out nearly half a million dollars when it concludes Jan. 27. With so much money up for grabs, eight cowboys climbed within the Top 15.
Although there were no changes within the Top 15 for any of the timed events, tie-down roper Tyson Durfey has won more money than anyone else in the PRCA this season with $34,524. If the 2019 season turns out like the 2018 season, Durfey is nearly halfway to finishing the season in the Top 15.
Cowboys know it's easier to maintain a position at the top than it is to play catch-up when trying to qualify for the Wrangler National Finals Rodeo. Every dollar counts, and making the Top 15 in the PRCA | RAM World Standings early establishes a solid base and builds a cowboy's confidence as the season picks up pace.
Nobody knows that better than bareback rider Mark Kreder, who moved from 20th to 12th. Kreder moved eight spots this week thanks to winning $3,897 at the Cinch World's Toughest Rodeo event in Moline, Ill.
Five Spots
• Trevor Reiste moved from 12th to seventh in bull riding.
Two Spots
• Clayton Sellars moved from fifth to third in bull riding.
• Cole Elshere moved from 10th to eighth in saddle bronc riding.
One Spot
• Jacobs Crawley moved from second to first in saddle bronc riding.
• Jamie Howlett moved from fourth to third in bareback riding.
• Joey Sonnier III moved from sixth to fifth in saddle bronc riding.
• Sterling Crawley moved from 12th to 11th in saddle bronc riding.
With Denver's rodeo ending Sunday and the Southwestern Exposition and Livestock Show in Fort Worth, Texas, on the horizon, the outcomes of those rodeos and others are sure to impact the world standings.
Check back with prorodeo.com next week to see who the new leaders are in the world standings.
Courtesy of PRCA