U.S. Farm-Raised Christmas Catfish Pinwheels with Bleu Cheese, Dried Cherries and Arugula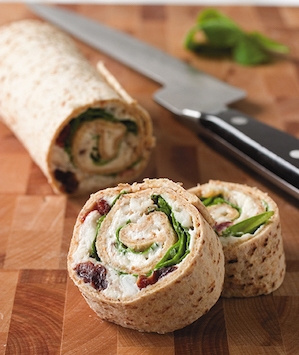 We are a country of people that are "creatures of habit" and what I'm about to share with you is a fun and delicious way to elevate your traditions. This new tagalong for any party, function or lunch will add the flavor of U.S. Farm-Raised Catfish combined with the healthy and beauty of the green and red colors of arugula and cherries. Feel free to substitute with cranberries for Christmas with me this year. The combination of the blue cheese, the mild crunch of the catfish, and the zing of the berries make this one worthy of a second trip back to the table of flavors where you try to cram as much as you can on a 4 inch plate. I can't stress enough how good it is to expand your culinary options by exploring the wonderful recipes on uscatfish.com and realizing that U.S Farm-Raised is another great reason to buy American.
And remember to be aware of what you buy, I always check the label to make sure it's U.S. Farm-Raised Catfish and so should you. Enjoy 100% All-American!
Merry Christmas and Happy Holidays!
Courtesy of Wrangler Network contributor David Sharp.
@sharpdlance