WEATHER GUARD World Standings Watch: Jumpin' June, Let the Leap Frog Festivities Begin!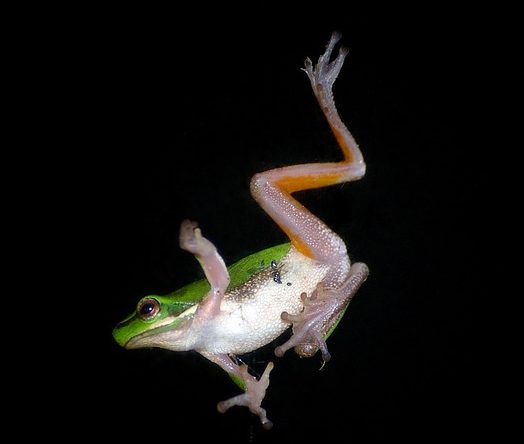 As discussed last week bareback, tie-down and team roping could and did jump around a lil with the race so tight and everyone crisscrossing the country in between UT WCC and to FL for another Kissimmee event. Orin Larsen slips past Jake Brown who we now won't see til' crunch time, hopefully Pendleton? The back and forth in TR continues with Russell Cardoza taking the lead in now in the heeling side, and no-one on either side is safe over the next few weeks and months to come. The one race that continues to tighten even more is saddle bronc as Jacobs crosses the 1 million $ mark and the 21 yr. old CoBurn Bradshaw moves within $1100 of the #1 spot in the WEATHER GUARD PRCA World Standings. He finished off 2015 with his first trip to the WNFR and the Resistol Rookie title, go a little deeper here and watch this ride from Salinas last year.
CoBurn has fell right into the Wright family ways after marrying in and assuming the role of spoiler in a little family game of rock, paper, scissors which is really fun to watch the gang of rough and tumble bronco busters as they rib and cheer for each other at the same time. I'm still looking for Spencer to jump into the mix and the top 25. It's interesting to see that UT was able to connect 4 in the standings and Canada just needs Chuck Schmidt to move North slip one spot to have 6 guys in a row in the top 15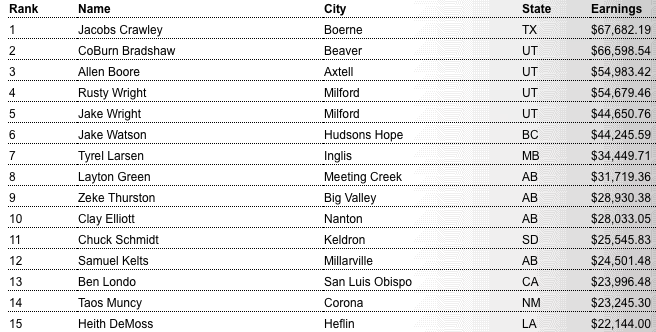 One of the things I've learned over the years is when the Wildest, Richest Rodeo In The West starts in Reno its time to really "WATCH" the WEATHER GUARD PRCA World Standings and get fired up for the upcoming Summer Run! Get ready this week for the Buffalo Bill Rodeo, Reno, NV, Pleasant Grove, UT, Bellevue, IA, Lexington, KY, Crazy Horse Stampede, Steamboat Springs, Daines Ranch Rodeo in Alberta, Crazy Horse Stampede, and several others that could and will produce changes in the World Standings.
June 15 Buffalo Bill Rodeo, North Platte, Neb., begins
June 15 Strawberry Days Rodeo, Pleasant Grove, Utah, begins
June 16 Reno (Nev.) Xtreme Bulls
June 16 Jackson County ProRodeo, Bellevue, Iowa, begins
June 16 Big Spring (Texas) Cowboy Reunion & Rodeo begins
June 17 Reno (Nev.) Rodeo begins
June 17 St. Croix Valley PRCA Rodeo, Glenwood City, Wis., begins
June 17 Lexington (Ky.) Rodeo begins
June 17 Stanley (Wis.) Rodeo begins
June 17 Steamboat Springs (Colo.) ProRodeo Series begins
June 17 Daines Ranch ProRodeo, Innisfail, Alberta, begins
June 18 Goshen (Conn.) Stampede
June 18 Cowtown Rodeo, Woodstown Pilesgrove, N.J., begins
June 18 56th Belt (Mont.) PRCA Rodeo, begins
June 18 Crazy Horse (S.D.) Stampede Rodeo begins
June 18 Evergreen (Colo.) Rodeo begins
June 18 Earl Anderson Memorial Rodeo, Grover, Colo., begins
June 19 Goshen (Conn.) Stampede
June 19 Super Rodeo, Matachi, Mexico
WEATHER GUARD World Standings Watch is written by David Sharp.
@wndavidsharp