WEATHER GUARD World Standings Watch: Scottie Knapp
You better take off your sombrero, New Mexico!
Scottie Knapp from Albuquerque is on his way to his 1st WNFR with $76,690 won thus far in 2016.
And, he has moved to #2 in the WEATHER GUARD PRCA World Standings.
Now that you have taken off your sombrero in celebration of your boy's success you can legally start dancing. Apparently in New Mexico where Scottie calls home, it's still illegal to dance with your sombrero on. Probably not relevant, but just in case you get carried away it still seems to be the law.
Anyway, here's one to warm you up. Check out this little man with his first bull "BODYBAG".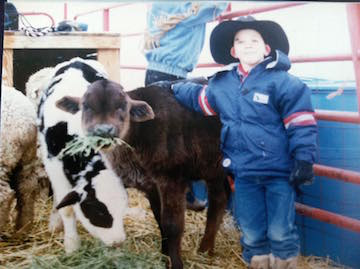 After several years of watching and working with Scottie I'm glad to see him getting that chance to go to Vegas and having a shot at the title. The 25 yr old started out riding sheep at 3, then moved on to bulls at 10 yrs old and has just quietly moved around the country "doing what I love". Seems every time I run into Scottie he always has a big smile and a handshake for ya, but not many words other than "things are good and I'm doing what I love". He now boast a new endeavor in his life, as he has a daughter that will turn one right about the time they pack up for the trip to Vegas. Scottie credits his finance, Callie, for keeping things going and in order with lil Auburn until daddy gets back home from the road. This past weekend the crowd watched as one after another went down in Salinas, even the champ Sage, couldn't make the 8 this time. Not much was different with Scottie as you could see him tip to an impossible point and then much to the delight and roars of the guys on the chutes and the crowd he was back in the middle. Watch the only qualified ride from Sunday Finals in Salinas here with Scottie to understand why he has move to #2 and is our feature this week in the WEATHER GUARD PRCA World Standings. "WATCH" this try!
In addition to Salinas, Scottie has on his resume several great wins like the Turquoise Circuit Finals, Lea County Fair and Rodeo, Guymon Pioneer Days, the West of the Pecos Rodeo, Isanti Xtreme Bulls, the Rodeo of the Ozarks, and my favorite because I was there and it's a great name, the Nutty Jerry's Halloween Xtreme Bulls in Winnie, TX! Along the way this year, he's also pulled down another $8k at a few PBR events as well.
And for those of you that thought Scottie didn't talk much and wanna hear more about his heart go to the 27:30 mark at Coy Huffman's video from Cowboy Church on the Sunday morning he won Salinas.
Hope you enjoy this guy as much as those of us close to the sport do. Get to know Scottie and follow his story in 2016 and beyond.
WEATHER GUARD World Standings Watch is written by David Sharp.
@wndavidsharp