WEATHER GUARD World Standings WATCH: Watch the Swarm…..no time for Braggin just Waggin
Right now there's a host of 2nd – 25th place contenders that are getting hot like Tyler as the temps across the country are getting into the 90's for the first time and the rain is covering TX. The WEATHER GUARD PRCA World Standings are in a position that is poised for changes with Cowboy Christmas about to pull the 1st present from under the tree. "Wag" or "Wags" as we often hear him referred to, Tyler Waguespack, has been so solid thus far in 2016 aboard Outlaw or any horse he mounts for that matter. He just set the Wrangler Champions Challenge record at 3.4 in Spanish Fork, UT and has dominated the WCC tour over the last year. The back and forth between Tyler, Jason Thomas and Ty Erickson is one of the most fun to watch right now.
In Bareback with #1 Jake Brown trying to claim a few more dollars before surgery and being out til fall is going to change a lot, but #2 Orin Larsen and #3 Tim O'Connell have been inching up regardless with Orin dominating in Canada and Tim posting several scores above 85 in the last week. As mentioned when "the WATCH" was on Jake, he has been through so many injuries over his career and bounces back time and time again. I have no doubt he will come back with fire and be well rested for the WNFR and with the payout there it's still anyone's title. So, for the next few months Jake will be on a mission mentally to ride as many as possible and prepare the rest of his body for his return as a true "legend of the fall".
On the heeling side of Team Roping, the boys have bounced around quite a bit and moving up the young Quinn Kesler to the mix at #4 with his sophomore year in the PRCA his confidence looks to be peaking. So much can and will change over the next couple of months with the current leaders and the mix of guys back on the road like Kaleb Driggers and Junior Nogueira who are on a mission.
The tie-down has resembled a cross state rival of OU and OSU with Ryan Jarrett and Hunter Herrin with less than $1,300 between them and the things heating up, but quietly you won't have to look far to find anyone that is not rooting for Marcos Costa by way of Brazil and Childress (Smithville), TX. He is such a big, gentle guy and personally I must have run into him 40 times in the MGM lobby, hallway, or elevator and every time he had this incredible smile like it was the first time we'd crossed paths in a month. Yes, I'm a fan!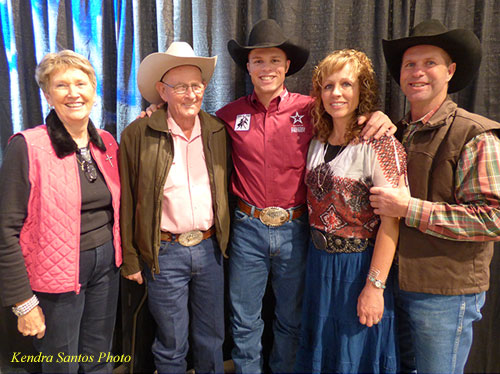 One topic we have just walked around thus far this year is Sage Kimzey and the bull riding event. "The Man of Steele" is off to his crazy dominance of just riding whatever they run under him and living up to all the early life experience and dreams. I met Ted Kimzey for the first time 2 yrs ago in San Antonio with his then rookie son making a huge splash. Watch this interview with Sage and Ted and see if you spot the emotion from dad. I've loved meeting his mom, his sister, and brother over the last couple of years and seeing how fun, serious and loving of a family they are. Now, on the other hand, I must remind you that one of my favorite guys and names that when I think rodeo come to mind is Frost. Joe Frost has been sidelined since Houston and somehow still in #2, and looks like we could see him by July 4th, hopefully? Hint….Canada get ready to promote Ponoka and Joe Frost coming back if he gets officially released. Nothing keeps the bull riding cooler in the summer than a lil Frost Fever.
Big weekend now with lots of D2 Xtreme Bulls events like Weatherford, Gladewater, Sisters and Union that are also complimented with great rodeos, and add to those ones like Cleburne, TX, Castle Dale, UT, Coleman, TX, Delta, UT, Garden City, KS, Eagle, ID, Cortez, CO, Kissimmee, FL, Marwayne, Alberta, and Livermore and Glennville, CA its time to roll-out! The WEATHER GUARD PRCA World Standings is gonna get wild quick and gonna be fun to "WATCH", seems another one of my favorites is back as well after missing the WNFR last year, he's starting fresh and ready to roll. Ok, so he's not in the top 50 but he's a Champion! "WATCH" Richie!
WEATHER GUARD World Standings Watch is written by David Sharp.
@wndavidsharp