Cure the winter doldrums with a Western winter vacation
By Wrangler Network contributor, the Dude Ranchers' Association (DRA)
Whether your dream getaway is a warm weather paradise that lets you escape from the cold, or a snowy wonderland that helps you embrace the magic of the season, a winter vacation can be the perfect thing to pull you out of the winter doldrums.
The below list of Dude Ranchers' Association (DRA)-accredited ranches is sure to please both camps. With nearly 100 members ranches located in some of the most awe-inspiring areas of the Western U.S. and Canada, an all-inclusive vacation to a dude or guest ranch is just what the doctor ordered this winter.
Warm-Weather vs. Cold-Weather Winter Getaways
The Southwestern climates of Arizona and New Mexico will make you forget all about the cold temperatures elsewhere in the country in no time.
Circle Z Ranch is open from late October through early May. Located in the heart of Southern Arizona's Sky Islands, this desert oasis treats guests to vistas dotted with grasslands, canyons and mountain ranges, and more than 100 miles of trails spanning landscapes of Sonoran prickly pear and ocotillo, to oak and pine forest. In addition to horseback riding, activities include nature education programs, hiking and bird watching, as well as lots of photo opps and fine dining. Circle Z offers several packages tailored for winter travelers.
White Stallion Ranch in Tuscon, Ariz., prides itself on combining the Western hospitality of a traditional dude ranch with the service and quality of a fine resort. Guests are treated to unspoiled desert, rugged mountains and towering cactus, the likes of which have attracted Hollywood filmmakers to the area for more than 70 years. While some of the best views can be enjoyed from the saddle, you can also partake in spectacular hiking and rock climbing, along with amenities like a tennis court, heated pool, hot tub and fitness center. White Stallion is currently offering special packages for December 2014.
At Burnt Well Guest Ranch in Roswell, N.M., evidence of the American Old West is visible at every turn. Located in the foothills of the Sacramento mountains, this family-owned ranch has been a working cattle and sheep ranch since 1950. A simple ranch with simple pleasures like good food, good conversation, lots of storytelling and laughter, campfires and a night sky full of stars, you'll feel right at home kicking off your boots and relaxing.
Northern dude ranches in Idaho, Montana and Colorado specialize in providing guests with a winter retreat like nothing they've ever experienced.
Has that summer lovin' turned into something more serious? Sundance Trails Ranch specializes in making your winter weddings and elopements both beautiful and memorable. Honeymoons here are complete with Colorado snowy vistas and warm fireplaces in your own private log cabin. Stargazing from the jacuzzi completes the dream stay. And who knows: your one night stay may just turn into two…or a full week!
The first hint of snow means it's time for sleigh rides, skiing and snowmobiles at Western Pleasure Guest Ranch in Northern Idaho. Spend time with loved ones while enjoying a Dinner and Sleigh ride. Explore the ranch via snowshoes or cross-country skis. Or enjoy a Bed and Breakfast stay. Western Pleasure is located on 1,100 acres and adjacent to thousands of acres of land with breathtaking views of the Selkirk and Cabinet Mountains. Winter specials include several ski packages, a snowmobile package and spa package.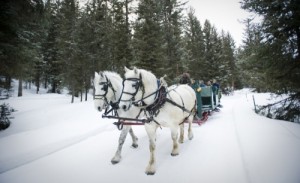 For the ultimate Rocky Mountain winter adventure, visit Lone Mountain Ranch in Big Sky, Mont. The ranch is perfectly situated just six miles from some of the best skiing in the country and was voted as the No. 1 Nordic Ski Resort in North America by Cross Country Skier magazine. Winter activities include skiing (Nordic, downhill and backcountry), snowshoeing and sleigh ride dinners. Guests can even take a short shuttle ride to explore Yellowstone National Park or the Gallatin National Forest by skis or snowshoes. Winter packages are currently available.
At The Home Ranch just north of Steamboat, Colo., you'll find some of the best Nordic skiing in the world right outside your doorstep, plush yet rustic accommodations, and one of the best chefs in the West preparing your every meal. A winter stay at this ranch could include a snowshoe up Home Mountain for a breathtaking view of the Elk River valley; a cross-country ski over to Llamasary; a backcountry excursion up to Hahn's Peak; a quick skate ski around Aspen Arches; or a hair-raising trip down the tubing hill. Winter and holiday packages are currently available.