Win a Chance to #ShowYourGrit at the Grand Ole Opry
ABOUT THE PRIZE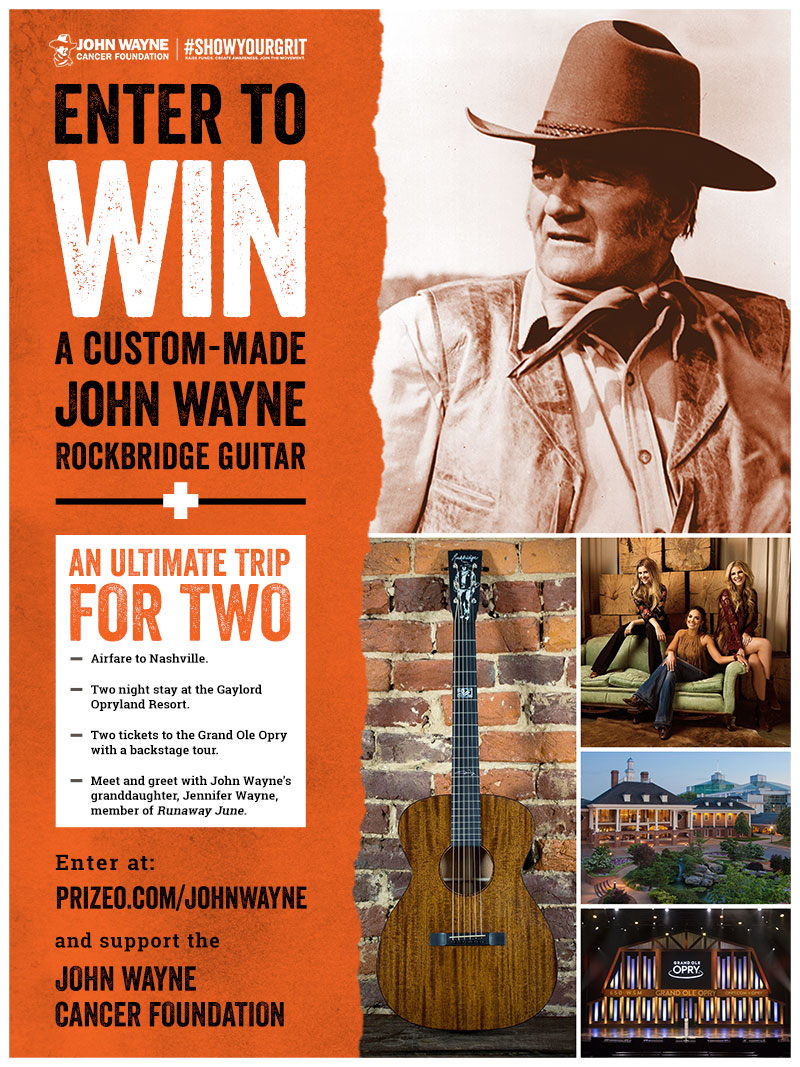 John Wayne. The Duke. The man, the legend, the icon. There were few movie stars bigger than John Wayne, and even today he remains one of the most popular and recognizable figures in the world. How would you like to honor John Wayne's legacy and help raise money for the John Wayne Cancer Foundation as part of our annual #ShowYourGrit campaign?
For a donation of only $10, you'll be entered for a chance to win a trip to Nashville to attend a show of your choice at the iconic Grand Ole Opry, including an Opry House backstage tour. You'll also take home a custom-made, one-of-kind, John Wayne Rockbridge guitar presented to you by John Wayne's granddaughter, Jennifer Wayne, from the popular country music group, Runaway June. This one of kind hand crafted Rockbridge guitar is made of solid Mahogany and features custom John Wayne imagery, including the Red River D belt buckle. All front inlay's are Mother of Pearl. The back inlay of John Wayne's silhouette is crafted with ebony and wood from John Wayne's yacht, The Wild Goose. Flights and hotel accommodations are also included, featuring a 2 night stay at the impressive Gaylord Opryland Resort.
Donate more and you'll get extra chances to win, plus some exclusive T-shirts and bandanas to #ShowYourGrit in the fight against cancer. We're taking John Wayne's message of hope global to help fight cancer. Thank you for your support. See you at the Grand Ole Opry!
—John Wayne Cancer Foundation
ABOUT JOHN WAYNE CANCER FOUNDATION
John Wayne beat lung cancer in 1964. Over the next 15 years, before his death from cancer of the stomach in 1979, he became passionate about helping others fight this terrible disease. To honor his memory, his family created the John Wayne Cancer Foundation (JWCF) with the mission to bring courage, strength, and grit to the fight against cancer. JWCF funds novel and innovative programs that improve cancer patients' outcomes and save lives through research, education, awareness, and support.
The Foundation established the John Wayne Cancer Institute at Saint John's Health Center in Santa Monica, CA, which has led to groundbreaking procedures and treatments. JWCF also funds an innovative skin cancer awareness and prevention program for youth called Block the Blaze.
See more at www.prizeo.com