Trevor Brazile Talks Horses, Rodeo and the 2013 Wrangler NFR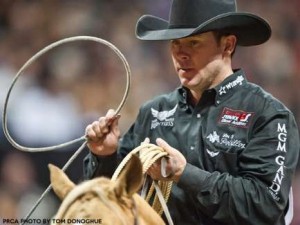 Record-breaking cowboy Trevor Brazile talks about his 19th world championship, horses and what's next for his rodeo career.
Q:  Tell me how you got into rodeo.
It would have been an easier choice to get out of rodeo. I grew up on a feed lot in the panhandle of Oklahoma with horses and cattle. It became a part of my life and has been ever since. Even when I'm done rodeoing, I will still have the same passion for horses. I love good horses. They're involved in my life every day and I can't imagine it without them.
Q:  What horses are you riding this week?
The horse I'm riding in the tie-down roping this week is Deputy. I've brought him along since he was five years old. He's nine this year. He's done an outstanding job this week. I owe most of my success this week to him for our success in the tie-down roping. He's made my job easy.
Boogie is the head horse I'm riding in the team roping. He's fairly new to my program. He has fit in perfect and will be a good one in the future.
Q:  What was it like to break the record for the most world championships won by any cowboy?
It was a huge week for us. My wife, Shada, made it to her first Wrangler National Finals Rodeo and breaking the record of world championships with my 19th this week was a dream come true. I say dream come true, but I would have never thought this would happen so I didn't dare to dream it. I'm thrilled we reached that milestone!
Q:  And potentially your 20th world championship tonight?
That's what's crazy. I never thought 19, and it seems like the cards have fell where I have a realistic chance at my 20th at the finals of the Wrangler National Finals Rodeo. You never know. I have been blessed so I'm not going to doubt anything and I'm just not going to give up. You're never beat unless you give up and we're not giving up so we'll see how it goes!
Q:  What are your future plans or goals for next year?
You know, I don't have any more goals. It sounds terrible, but I've reached the goals I've set in the sport. I love being able to make a living doing what I love to do, the people we're around, the western lifestyle, and this whole industry. I love it, it's like family to me. I'm going to do it as long as I can. I don't want to do anything else. I'm living the dream!
Q:  Why do you wear Wrangler jeans?
I didn't think cowboys could wear anything else! Since there's been rodeo, there's been Wrangler. I'm a fan of the sport and of the history. In my opinion, Wrangler jeans are how you tell a real cowboy.