Wrangler Competitors Win Big at THE AMERICAN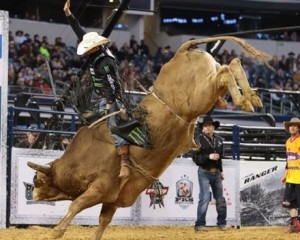 This past Sunday the sport of ProRodeo witnessed the richest one-day event featuring many of the top competitors from around the world. The inaugural THE AMERICAN created a defining day with high stakes for the best rodeo athletes to rise to the top. No easy feat by any means but after the dust settled, three Team Wrangler members came out as victors, one even a millionaire.
21-year-old Richmond Champion clinched the $1 million "side pot," along with an additional $100,000 that was given to the winners of each event due to his two dominating eight second rides, ultimately scoring 90 points in the final round. We had a chance to catch up with Champion who told us that "Winning THE AMERICAN was an experience I will never forget. My life has changed so much in the past couple days, and I'm sure it will continue to do so. To me what's more exciting than the title or the money, is the fact that the event in itself will change rodeo forever. It gained unbelievable attention and respect to a sport that I honestly think is underrated."
Joining Champion in the winner's circle and taking home the bull riding title is the newest member of Team Wrangler, 2013 PBR World Champion, J.B. Mauney. Wearing Wrangler jeans for his first competition of the season, Mauney shared "there is no better feeling being in true cowboy clothes while winning (the bull riding event of) the biggest one-day rodeo in history."
Rounding out the trio of victors is Wade Sundell who took home the saddle bronc riding title. With a spirited ride on Stampede Warrior, Sundell earned a score of 92.5 and a few new fans along the way.
To stay up-to-date on Champion, Mauney and Sundell, make sure to tune in often to the Wrangler Network for live streamed events, news and results.