Wrangler Donates Wrangler Western Gear to Troops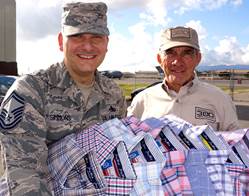 As part of the Wrangler National Patriot program to raise awareness, appreciation and funds to support wounded or fallen soldiers and veterans, Wrangler Western recently donated a stack of George Strait Cowboy Cut Collection shirts to Sergeant Doug Simmons [left] and his airmen at the Joint Base Pearl Harbor Hickam Air Field. A special thanks to three-time Purple Heart Veteran John Bates [right] for delivering the shirts during his American300 Tour to the base.
Stay tuned to the Wrangler Network for 2014 Wrangler National Patriot Tour stops and details, and to learn more about the program and how to get involved, visit www.wranglernationalpatriot.com.