Miriah Lehmann, Miss Rodeo Wisconsin
MIRIAH LEHMANN
MISS RODEO WISCONSIN
"BADGER STATE"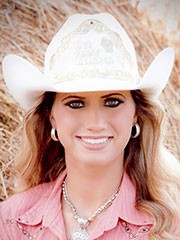 Miriah Lehmann is from Barronett, Wisconsin where she obtained a Bachelor's Degree in Animal Science with Equine Emphasis at the University of Wisconsin River Falls. She plans to use her degree and farming experience to obtain a career in the agriculture industry.
Miriah's family is an important part of her life and her favorite sports and hobbies are centered around them. She enjoys ice fishing, hunting, training colts and field work with her parents. As a school bus driver she is able to donate her time transporting kids to and from the Learn to Skate Program where she also volunteers her time as a coach.
"The Miss Rodeo America organization and the Professional Rodeo Cowboys Association have a wonderful relationship with goals that are parallel to one another. Goals to keep the professional cowboys, stock contractors, and stock healthy and injury free. They keep western heritage alive while working together to gain lifelong rodeo fans. Throughout the summer as Miss Rode Wisconsin it was my goal to gain new rodeo fans and educate our youth about professional rodeo. If I were chosen to be Miss Rodeo America I would continue to promote the importance of western heritage and educate our youth with passion. I have truly enjoyed my job as a role model and spokesperson for the state of Wisconsin and would be humbled by the opportunity of filling this role nationally as Miss Rodeo America.