2013 Wrangler National Finals Rodeo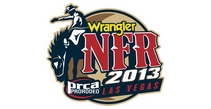 COLORADO SPRINGS, Colo. – It seems appropriate that Trevor Brazile's 19th world championship – it's not a certainty, but certainly likely – will be an all-around championship.
After all, Brazile has 10 all-around titles, more than anyone in rodeo history, with no end to his amazing run on the horizon. The cowboy from Decatur, Texas, has won seven straight all-around championships and is poised to claim an eighth.
If he does, it'll be his record-breaking 19th gold buckle, one more than Guy Allen, who earned 18 world titles, all in steer roping."That's exciting to me," Brazile said. "Records are nice to have, but I don't think about them. Winning is what's important to me."
Brazile equaled Allen's mark by clinching the world title at the Nov. 8-9 Clem McSpadden National Finals Steer Roping in Guthrie, Okla. That also seemed appropriate.
"Guy's a great cowboy and I was a student of him growing up," Brazile said. "I"d film him at rodeos and take it home and break it down. Guy took steer roping to another level, like (eight-time overall World Champion) Roy (Cooper) did with calf roping. Guy just did everything a little better and raised the bar."
Brazile has obviously raised the bar, too.
"I hope when I'm done people say that. I've tried to do what nobody"s done," Brazile said. "I wasn't satisfied with eight all-arounds. I kept working and tried to keep winning."
When it all began, he never envisioned the incredible success he's enjoyed for more than a decade.
"It never really seemed possible until after I won the first one (in 2002)," he said. "Then it was like … where do I go from here?"
It became his goal to beat Ty Murray"s record of seven all-around world championships. He did that, and kept going.
"I did what I wanted to do – pass Ty Murray's record of seven (all-around championships)," Brazile said. "I'm just having fun and living the dream."
How much longer will the 37-year-old cowboy continue to go hard?
"Relatively speaking, it won't be a lot longer," he said. "There's going to be a time when I'm just done. I see passing the torch and rodeo will be strongly represented.
"But I"m truly still enjoying what I'm doing and I'm not ready to quit."
Other storylines to keep an eye on for this 55th edition of the Wrangler NFR:
Bobby Mote has the lead in the bareback riding world standings and will be trying for a record-tying fifth gold buckle against a field that includes two-time defending World Champion Kaycee Feild and three-time World Champion Will Lowe. That trio has accounted for nine of the last 11 titles.
Casey Martin is the only one of the contestants on top of the world standings entering the WNFR who has not won a gold buckle previously. He showed his readiness last year when he finished second in the WNFR steer wrestling average and second in the world. This season he"s led the world standings every week but one since January.
Team roping header Chad Masters was injured early in the year and is the only 2012 champion who cannot defend his title in Las Vegas. Masters" partner during the part section of 2013, reigning heeling world champion Jade Corkill, hooked up with 2005 World Champion Clay Tryan and just kept on rolling. Tryan and Corkill arrive at the Thomas & Mack Center on top of the standings in an extremely tight battle with Kaleb Driggers and Travis Graves.
Cody Wright"s first gold buckle in 2008 was chronicled by a group of documentary filmmakers and his brother, Jesse"s, first world title a year ago was filmed by the same crew for a revised edition of the film. This time it will be Cody, Jesse and Jesse"s twin brother, Jake – they are 1, 2 and 7 in the world standings – all going after it. The New York Times is sending a reporter to follow the family drama.
Two-time defending champion Tuf Cooper has the largest lead in any of the individual events (more than $37,000 over Tyson Durfey) as he tries to become the first tie-down roper to win three consecutive world championships since his ProRodeo Hall of Fame dad, Roy, won five in a row from 1980-84.
Bull rider J.W. Harris is highly motivated to end his string of near misses – he finished just $1,056 behind fellow Texan Cody Teel last year and was second to Shane Proctor in 2011 – at two and get back to his accustomed spot at the top. Harris won world championships every year from 2008-10 and leads the field by more than $30,000 entering this Wrangler NFR.
Story courtesy of the PRCA. See more on the Wrangler NFR at ProRodeo.com