by ProRodeo.com | Dec 12, 2016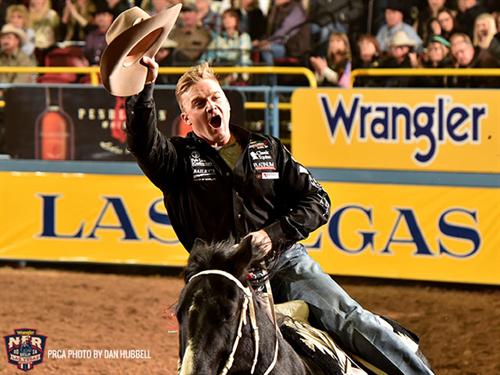 COLORADO SPRINGS, Colo. – With $10 million and nine world championship buckles up for grabs, the 2016 Wrangler National Finals Rodeo presented by Polaris RANGER was full of drama, thrills and everlasting memories.
There were numerous historic performances in Las Vegas over the 10 nights, but no cowboys left town with bigger smiles than Junior Nogueira, steer wrestler Tyler Waguespack and bull rider Sage Kimzey.
Nogueira, a 26-year-old team roping header from Presidente Prudente, Brazil, combined with his heeler, Kaleb Driggers, to place sixth in Round 10, which was enough to earn Nogueira the all-around gold buckle. Nogueira is the first Brazilian in PRCA history to win a gold buckle.
Nogueira's season total of $231,728 earned him the title by less than $3,600 over steer wrestler Clayton Hass.
Since 2002, there have now only been three different all-around champs – Nogueira joins Trevor Brazile and Ryan Jarrett. Jarrett's title came in 2005.
Waguespack captured his first world title, thanks to an outstanding WNFR. The Gonzales, La., cowboy had a winning time of 41.9 seconds in the 10-head average. He placed in eight of the 10 rounds, and split victories in Rounds 1, 3, and 6. He also split second place in Round 4, and was second outright in Round 9.
The $213,218 he earned over the 10 nights was a steer wrestling WNFR record, and also won him the RAM Top Gun Award for the contestant with the most money earned in a single event.
In addition to the two buckles he took home, Waguespack also received a one-of-a-kind wrapped RAM truck,a custom buckle from Montana Silversmiths and a one-of-a-kind RAM Truck Top Gun-branded rifle from Commemorative Firearms.
Bareback rider Tim O'Connell ($374,272) set a PRCA record for most money won in any event in any year, eclipsing the mark of $327,178 established by bull rider Sage Kimzey last year. The single-season record for most money won in bareback riding before 2016 was $319,986 by Kaycee Feild in 2011. Waguespack also established a new single-season steer wrestling money record with $298,676, as did team roping header Levi Simpson ($249,133) and his heeler Jeremy Buhler ($258,311).
With all the money earned at the 58th annual WNFR a handful of cowboys passed the million-dollar mark in career earnings. The list is comprised of team roping heeler Dugan Kelly ($1,014,232), bull rider Shane Proctor ($1,214,620), team roping header Riley Minor ($1,068,647) and team roping heeler Russell Cardoza ($1,021,387).
Aside from Waguespack, the only other WNFR earnings record broken was set by world champion header Simpson and heeler Buhler, with $186,000 each in team roping.
Nogueira, O'Connell, Kimzey and barrel racer Mary Burger were the only world champions who led their events heading into the WNFR. As a result of the shakeup at the top, there were seven first-time world champions in 2016: Nogueira (all-around), O'Connell (bareback riding), Waguespack (steer wrestling), Simpson (team roping header), Buhler (team roping heeler), Zeke Thurston (saddle bronc riding), and Tyson Durfey (tie-down roping).
Courtesy of PRCA