2017 California Rodeo Salinas Commemorative Poster has Vintage Feel
Poster Features Trick Rider Edith Happy Connelly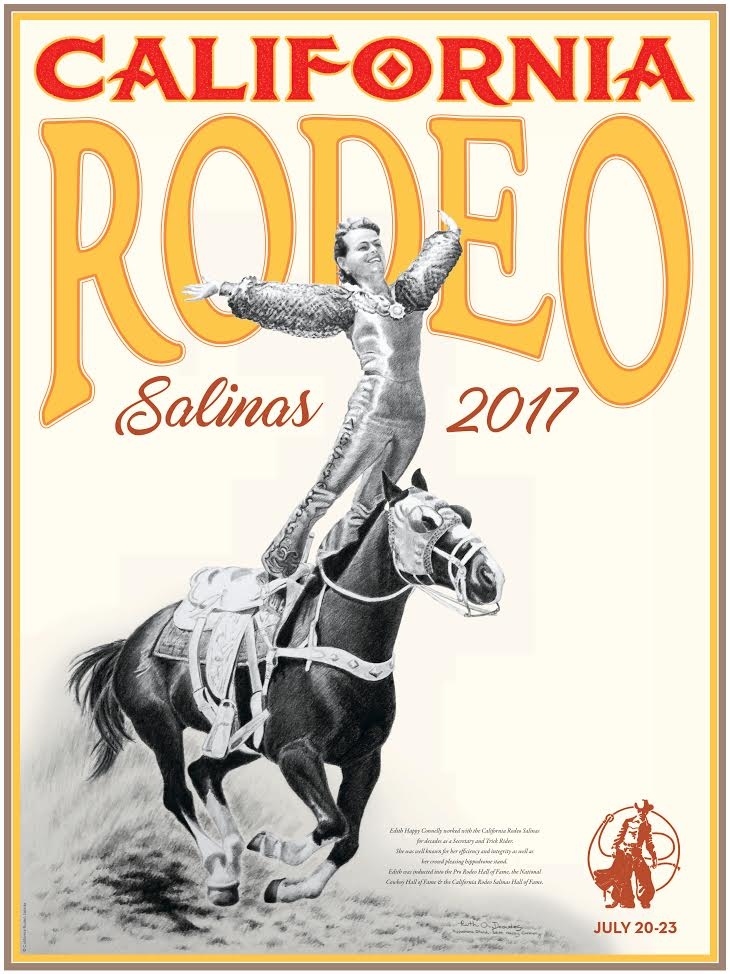 SALINAS, CA, October 21, 2016 – The California Rodeo Salinas produces a poster each year to commemorate the Rodeo and sell as a souvenir. The 2017 poster, chosen by President Mike Scarr, features a vintage trick rider, Edith Happy Connelly, who was not only a favorite performer at the California Rode Salinas, but also the Rodeo Secretary for many years. The Happy Family worked in several areas of the California Rodeo, still supports the association to this day and was inducted into our Hall of Fame in 2011. Edith is also a member of the ProRodeo Hall of Fame and the National Cowboy Hall of Fame. The poster captures Edith in her signature move, the Hippodrome Stand, and was debuted at the annual Stockholders Dinner on Thursday October 20th.
The poster is an intricate pencil sketch by local artist Ruth Deoudes. Born on California's beautiful Monterey Peninsula, Ruth was the fourth of five children. Her youth was very fulfilling, with many family adventures and numerous pets. Ruth's parents were educators who offered many artistic outlets. This may have been what inspired her to start drawing and painting at an early age. Ruth continued to follow her interest by studying art at Monterey Peninsula College, San Diego State University, and the University of California at Santa Barbara. She has been influenced by traditional as well as contemporary western artists. In 1988 Ruth and her husband Pete moved to the rural Salinas area where they had room to raise a family and maintain their livestock. Whether at home, a rodeo, or a friend's ranch, Ruth never lacks for inspiration or subject matter. It may be a situation, a pose, or even a gesture that sparks her interest. The execution and technique of her pencil drawings is very important, but the main goal for Ruth is to create an emotionally engaging and inspiring image. Ruth is personal friends with the Happy Family and she proposed the entire vision for this poster from the subject to the final layout. President Scarr was happy to follow Ruth's lead and is delighted with the end product.
The posters are available for purchase for $15 at the California Rodeo Salinas Office, 1034 N. Main Street, Salinas, Monday through Friday from 9am to 5pm except for Fridays when the office is closed from 11:45am to 1:15pm. They can also be purchased online at www.carodeo.com by clicking on About Us and Store. They will also be available for purchase at the 2017 California Rodeo Salinas July 20th-23rd. One hundred limited edition, artist signed posters printed on heavy stock are also available for purchase for $30 at the California Rodeo Office or online.
About California Rodeo Salinas
The 107th California Rodeo Salinas will take place July 20th-23rd, 2017. The California Rodeo Association is a non-profit organization that strives to preserve and promote the traditions of the California Rodeo Salinas and the West. We support the community and other non-profit organizations through the staging of the annual California Rodeo Salinas and other year round operations of the Salinas Sports Complex. Through donation of our facility, vending and fundraising opportunities during Rodeo and other events, the California Rodeo Association returns over $300,000 annually to local non-profits. For more information about the California Rodeo Salinas, log on to www.CARodeo.com or call the California Rodeo Office at 831-775.3100. 'Like' the California Rodeo on Facebook at www.facebook.com/CARodeoSalinas or follow us on twitter @CaliforniaRodeo for updates, photos and more.