2017 Miss California Rodeo Salinas Contestants Announced
Four Young Ladies to Compete for Coveted Title
SALINAS, CA, June 30, 2017 – The title of Miss California Rodeo Salinas is well known in the rodeo industry. Each year ladies from all over the state of California travel to Salinas to compete to represent the largest rodeo in California for one full year, visiting other rodeos, participating in parades and more. Miss California Rodeo Salinas is truly an ambassador for the local event as well as the sport of rodeo.
The contest consists of horsemanship, personality, appearance and scholarship categories. The 2017 contest will begin on Wednesday July 19th and Miss California Rodeo Salinas 2016 Megan Ford will pass the title on to the winner during the opening performance of the California Rodeo Salinas Thursday July 20th. The contest winner will receive a $2,500 cash scholarship to be used at the college of her choice, a gold and silver trophy belt buckle, the use of a two-horse trailer for one year, along with many other gifts and the privilege of wearing the Miss California Rodeo Salinas gold and silver tiara.
Competition is open to young women 18 – 21 years of age. Contestants must be at least 18 years old by July 1, 2017 without having turned 22 by July 31, 2017. In order to be eligible, contestants must represent either a recognized horsemen's organization or another recognized community organization (not commercial). Miss California Rodeo 2017 will have numerous and rewarding opportunities and experiences during her reign. If any contestant entering the 2017 Miss California Rodeo Salinas Contest currently holds a queen title representing another rodeo or horse organization, she will be eligible to compete in the contest with specific conditions outlined in the Contestant Contract.
Contestants are judged on horsemanship (40%), personality (30%), appearance (20%) and scholarship (10%). Horsemanship will include a pattern that demonstrates horsemanship abilities and a presentation run on the contestant's own horse. Each contestant will also participate in a draw for the exchange of contestants' horses. The same pattern or one similar will be performed by each contestant on the horse selected in the draw. Personality and appearance judging will involve a brief private interview and friendly impromptu questions before an audience. The scholarship section will include a short examination.
Full biographies of the four contestants are below:
Lena Coulson – Miss Salinas Valley Fair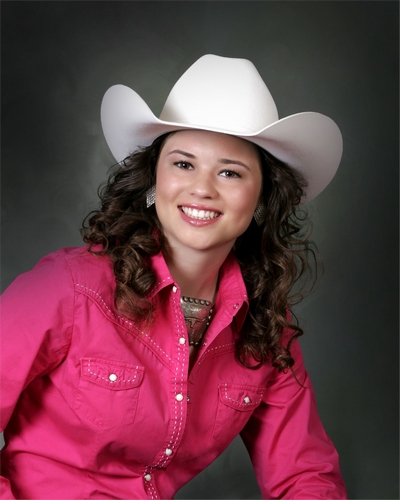 Lena Coulson is a proud resident of the Salinas Valley and she carries the title of Miss Salinas Valley Fair in this year's contest. Her parents, James and Cecilia Coulson of Salinas, will see their daughter off to Cuesta College this coming fall. Lena hopes to later transfer to Cal Poly San Luis Obispo to study Wine and Viniculture.
Learning to ride horses at an early age considerably shaped her future with the hands on lessons of responsibility and hard work. Lena became a member of NCHA at the age of twelve to successfully compete in reining classes but now has her sights set on barrel racing. She will be competing on the rodeo team for Cuesta College. One of her biggest goals is to eventually qualify for the WNFR.
Her membership in 4-H gave her lifelong friends, experience with animals and most of all a knowledge of her agricultural community. Lena cherishes the moments when she can give back to the community. She enjoys volunteering at Dorothy's Kitchen throughout the year.
Valerie Costanza – Miss Monterey County Sheriff's Posse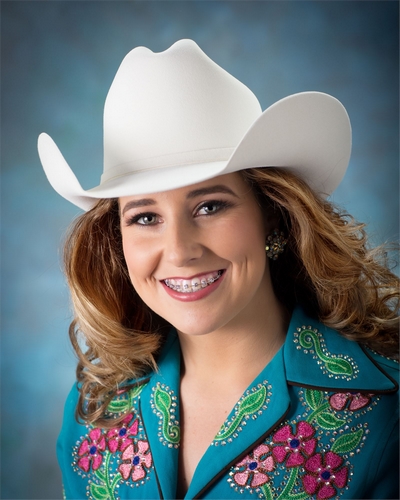 Valerie Costanza, daughter of Robert Costanza, DeAnna Costanza and Michael Monahan of Hollister, is competing as Miss Monterey County Sheriff's Posse. She is currently attending Gavilan College to achieve her Associate's Degree. Valerie hopes to become a medical assistant by obtaining her Bachelor's Degree at Cal State Monterey Bay. As a medical assistant she can ensure that she is helping people every day.
With experience competing in local rodeos, junior rodeos, ranch rodeos and local gymkhanas, Valerie's favorite events include reining, horsemanship, showmanship, barrels, poles, keyhole, and other gymkhana events. Outside of horse activities she also owns and has shown breeding does through FFA. The many awards received for her participation in the above events indicate to her that practice and hard work are essential.
Valerie also loves hunting, swimming, hiking, boating and spending time with her family. Rodeo has been a large part of her life and she enjoys traveling and meeting new people. Once she has her education completed and a career, she would like to own her own horse boarding facility.
Kaitlyn DeMott – Miss Agua Dulce Women's Club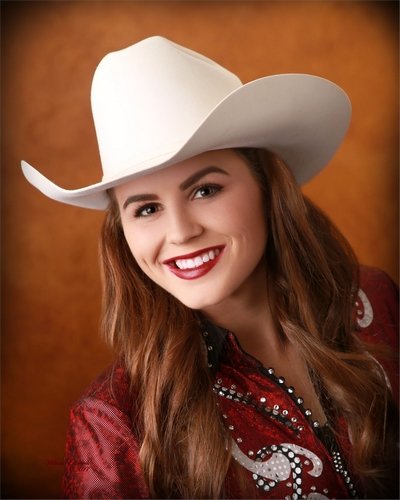 The Los Angeles County town of Agua Dulce is home to Kaitlyn DeMott – Miss Aqua Dulce Women's Club. The daughter of Brett and Karrie DeMott is enrolled at CSU Fresno pursuing a Bachelor's Degree in Animal Science Pre-Veterinarian. With this degree she can apply to vet school to fulfill her dream of becoming a large animal veterinarian.
Kaitlyn grew up riding and showing in western classes, but eventually the taste for adrenaline was found in barrel racing. This led her to become a member of CHSRA District 9 where she competed in pole bending, breakaway, team roping, goat tying and barrel racing. She decided to continue competing and living the lifestyle of the rodeo sport by becoming an active member of the Fresno State Bulldoggers Rodeo Team.
With high school academic honors and multiple sports awards Kaitlyn was involved in many community activities in her area. All of these events and experiences have challenged her and have given her the experiences in life that have shaped who she is and who she strives to be.
Sylvana Talamantes – Miss Tuolumne County Sheriff Posse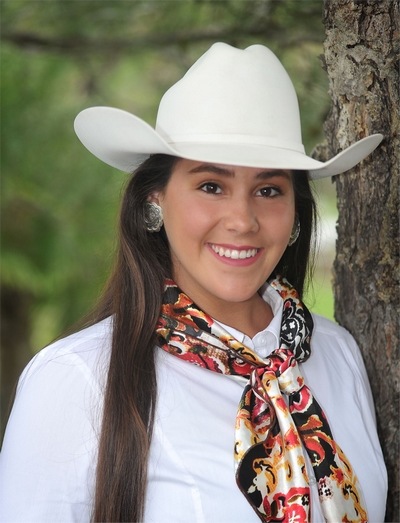 Born and raised in the Central Valley town of Oakdale, Sylvana Talamantes enters our contest as Miss Tuolumne County Sheriff Posse. The daughter of Carlos Talamantes and Kaysi Lubbers currently attends Modesto College where she is finishing her general education and majoring in Animal Science. This dean's list student plans to transfer to UC Davis in the spring of 2018 to pursue her Doctorate in Veterinarian Medicine.
Aside from academics, Sylvana has started a cow and calf operation with her older brother. Their goal is to grow their Angus herd yearly. Training horses is her passion and she enjoys multiple riding styles that include English, western pleasure, ranch horse, reining, barrel racing and roping. She shares her knowledge and experience by giving lessons to younger kids on riding and on training their own horses.
During her free time she takes pride in helping her community by volunteering. Sylvana also enjoys kayaking on the Stanislaus River. She considers herself blessed to have all the opportunities in her life and hopes to share her positive attitude with others.
About California Rodeo Salinas
The 107th California Rodeo Salinas will take place July 20th-23rd, 2017. The California Rodeo Association is a non-profit organization that strives to preserve and promote the traditions of the California Rodeo Salinas and the West. We support the community and other non-profit organizations through the staging of the annual California Rodeo Salinas and other year round operations of the Salinas Sports Complex. Through donation of our facility, vending and fundraising opportunities during Rodeo and other events, the California Rodeo Association returns over $300,000 annually to local non-profits. For more information about the California Rodeo Salinas, log on to www.CARodeo.com or call the California Rodeo Office at 831-775.3100. 'Like' the California Rodeo on Facebook at www.facebook.com/CARodeoSalinas or follow us on twitter @CaliforniaRodeo for updates, photos and more.