PRCA | AQHA Horses of the Year Announced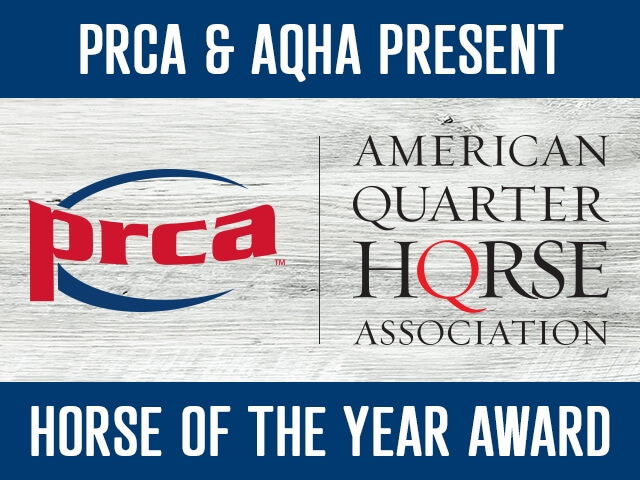 It is known that the equine athletes in the sport of rodeo play a vital role in helping every competitor achieve his or her goals.
The PRCA and the American Quarter Horse Association honor the outstanding registered American Quarter Horse in each of the PRCA's timed-event categories at the annual PRCA Awards Banquet in Las Vegas before the start of the Wrangler National Finals Rodeo.
This year's banquet is Dec. 5 at the South Point in Las Vegas.
The owner of the PRCA/AQHA/WPRA "Horses of the Year" in each category will be awarded $5,000 and an AQHA bronze trophy. Second place will receive $3,000, and third place will receive $2,000.
The final voting process concluded Oct. 5. The following are the top 3 in each event:
Heading:
1. RK Tuff Trinket (Bob); rider: Riley Minor; owner: Riley Minor
2. Tuffys Badger Chex (Badger); rider: Kolton Schmidt; owner: Ronald Schmidt
3. Pepinic Buck (Festus); rider: Rhen Richard; owner: A & C Racing & Roping
Heeling:
1. Zans Colonel Shine (Colonel); rider: Jake Long; owner: Jake & Tasha Long
2. Lula Dual (Lula); rider: Joseph Harrison; owner: Bobby Lewis
3. Leos Highbrow (Sug); rider: Brady Minor; owner: Brady Minor
Tie-down Roping:
1. Little Smart Leo (Big Time); rider: Tyler Milligan; owner: Tyler Milligan
2. Lights On Cd (Patron); rider: Richard Rhen; owner: A & C Racing & Roping
3. Arrogant Cutter (Snoopy); rider: Ryan Jarrett; owner: Ryan Jarrett
Steer Roping:
1. Cooperslittletoy (Cooper); rider: Chris Glover; owner: Chris Glover
2. Sixs Rowdy Man (Lawdog); rider: Jarrett Blessing; owner: Jarrett & Jessica Blessing
3. At War Leo (Punchy); rider: Cody Lee; owner: Cody Lee
Steer Wrestling:
1. Canted Plan (Scooter); riders: Tyler Pearson, Kyle Irwin, Tyler Waguespack, Justin Shaffer; owners: Tyler Pearson/Kyle Irwin
2. RGR Ryon (Maverick); riders: Tom Lewis, others; owner: Peggy Lewis
3. Famous Hot Chick (Holly); riders: Chason Floyd, Tanner Brunner, others; owner: R2m2z
Barrel Racing:
1. DM Sissy Hayday (Sister); rider: Hailey Kinsel; owner: Dan & Leslie Kinsel
2. KN Fabs Gift Of Fame (JLo); rider: Ivy Conrado; owners: Kenny Nichols & James Barron
3. Rafter W Minnie Reba (Sister); rider: Nellie Miller; owner: Sam Williams
Courtesy of PRCA