2019 California Rodeo Salinas Commemorative Poster Revealed
Painting by Local Artist John Cerney Inspired the Poster for the 2nd Year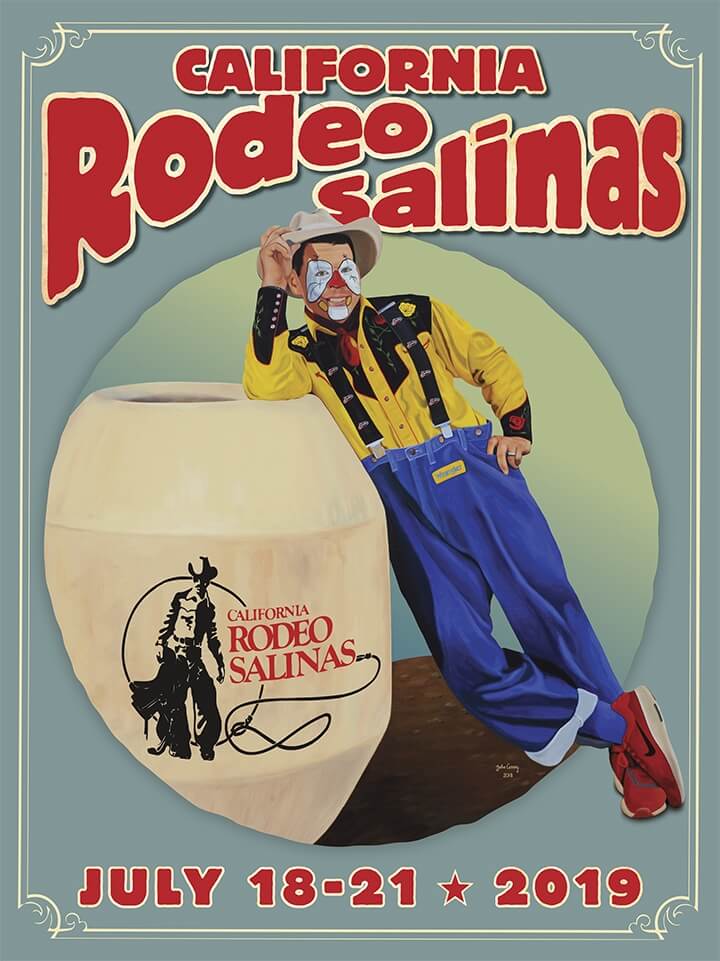 SALINAS, CA, October 19, 2018 – Brent Eastman is starting his second year as the President of the California Rodeo and once again selected local artist John Cerney to paint a mural that developed into the 2019 commemorative poster. The President guides the annual poster process for these collector's items that celebrate each year of the California Rodeo Salinas. The new poster features long time California Rodeo Salinas bullfighter and now barrelman Andy Burelle tipping his hat in a welcoming gesture. Burelle said, "I am honored to be featured on this year's poster. The California Rodeo Salinas committee feels like family to me because I have been coming here for almost 20 years to either compete as a bullfighter or to protect the other bullfighters." The colorful image is also a larger-than-life mural that now lives on a barn behind the rodeo arena greeting guests year round, lending a fun, western feel to the grounds.
John Cerney was born in Carmel and grew up in Salinas. He worked in the produce industry before studying art at the College of San Mateo and then California State University, Long Beach. He became self-employed as an artist in 1985 and is the owner of John Cerney Murals in Salinas. His work can best be described as 'giant cut-out art,' ordinarily viewed from the comfort of your automobile. He would often convince farmers to let him use their barns as canvases and that evolved into cut-out paintings. John started working in giant scale in 1995, realizing that in order for the viewer to 'take in' the figures from a quick moving car, they had to be more monumental in size. His projects are now located throughout the Midwest and Western United States and have been featured in numerous magazines, including National Geographic and Sunset.
The posters are available for purchase for $15 at the California Rodeo Salinas Office, 1034 N. Main Street, Salinas, Monday through Friday from 9am to 5pm except for Fridays when the office is closed from 11:45am to 1:15pm for lunch. They can also be purchased online by clicking on About Us and Store (www.carodeo.com/p/about-us/store/390). They will also be available for purchase at the California Rodeo Salinas July 18th-21st, 2019.
About California Rodeo Salinas
The 109th California Rodeo Salinas will take place July 18th-21st, 2019. The California Rodeo Association is a not-for-profit organization that strives to preserve and promote the traditions of the California Rodeo Salinas and the West. We support the community and other non-profit organizations through the staging of the annual California Rodeo Salinas and other year round operations of the Salinas Sports Complex. Through donation of our facility, vending and fundraising opportunities during Rodeo and other events, the California Rodeo Association returns over $400,000 annually to local non-profits. For more information about the California Rodeo Salinas, log on to www.CARodeo.com or call the California Rodeo Office at 831-775.3100. 'Like' the California Rodeo on Facebook at www.facebook.com/CARodeoSalinas or follow us on twitter @CaliforniaRodeo for updates, photos and more.