4-H Youth Wins Grand Champion Steer at San Antonio Stock Show & Rodeo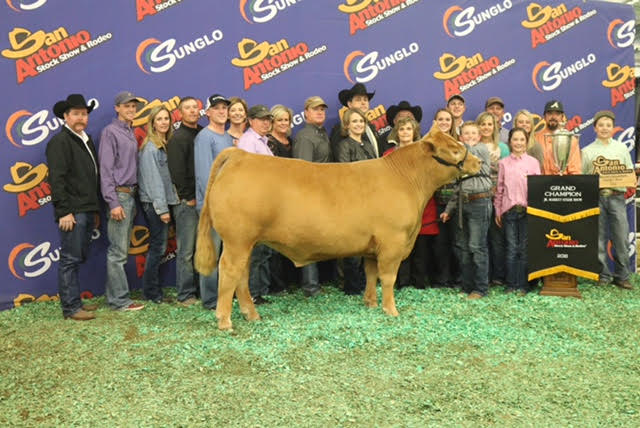 San Antonio, Texas – The Grand Champion Market Steer Drive was held Friday, February 26, 2016, at the San Antonio Stock Show & Rodeo. 4-H and FFA youth competed within fifteen different breed divisions, with the Grand and Reserve Champions of each breed winning a $10,000 scholarship. The Grand and Reserve Champions of the thirteen different breed divisions were brought into the AT&T Center as part of the rodeo to compete in the Grand Drive, where the Grand and Reserve market steer of the show were selected.
Tristan Himes, from Sterling City, TX, won Grand Champion Charolais Steer and then went on to win Grand Champion overall steer for the 2016 San Antonio Stock Show & Rodeo.
Himes, a member of Sterling County 4-H, recalls the most rewarding part of showing steers is the responsibilities that are learned from raising and training his animals. Since 3rd grade, Himes said he jumped right into the family tradition of showing livestock. Himes said he would like to thank his family for their help in raising his steer, the San Antonio Stock Show and Rodeo for the opportunity, and everyone else who supported him along the way.
"It's the best feeling in the world," Himes said. "Raising this calf from a baby and seeing him win the San Antonio Stock Show is truly an awesome experience."
Himes steer, "Nugget", sold for $105,000 in the Junior Market Steer Auction held Saturday, February 27, 2016. He plans to attend Texas Tech University when the time comes.
San Antonio Stock Show & Rodeo:
Established in 1949, The San Antonio Stock Show & Rodeo has grown to be one of the largest and most prestigious single events in the city, with over 1.6 million visitors entering the grounds each year. The success of the organization is attributed to over 6,000 volunteers who give countless hours to the organization. With community, donor and volunteer support, the organization has donated over $160 million to the youth of Texas through scholarships, grants, endowments, auctions, a calf scramble program and show premiums. For more information, visit www.sarodeo.com.