A Thousand Horses to Kick Off Rock Show
Opening Act for July 14th Big Week Kick Off Concert Announced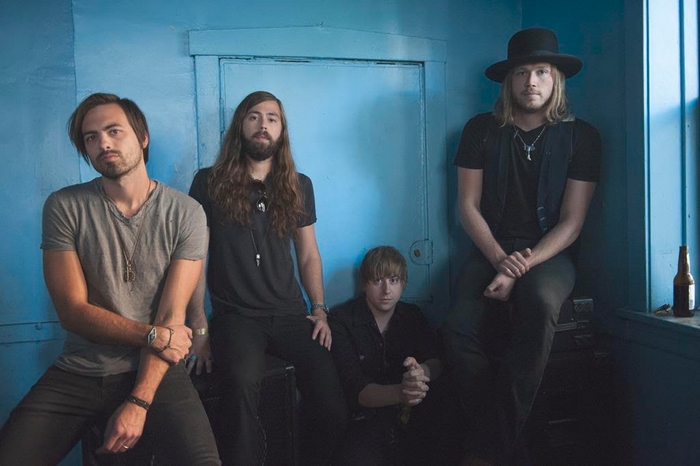 SALINAS, CA, March 30, 2017 – A Thousand Horses, a four man band that includes Michael Hobby-Lead Vocal, Bill Satcher-Lead Guitar, Zach Brown-Guitar and Vocal and Graham Deloach-Bass and Vocal, will open during the July 14th Kid Rock concert presented by Taylor Farms. Known best for their #1 single "Smoke," A Thousand Horses will go on at 8pm during the 2017 Big Week Kick Off Concert.
A Thousand Horses is a fresh fusion of classic sounds – a hybrid of Lynyrd Skynyrd, the Allman Brothers, Black Crowes and Exile on Main Street-era Rolling Stones, wrapped up in a modern-country context. The band's Republic Nashville album, Southernality, is as wild and free and powerful as the name A Thousand Horses implies. This is the result of years of a road-doggin' pursuit, determination and an against-the-odds struggle that found its rewards by bringing great music to the people.
A Thousand Horses released their debut self-titled EP in 2010 with the stand out tracks "Travelin' Man" and "Suicide Eyes". The latter of which was featured in the 2011 remake of the 80's classic "Footloose". The year 2012 brought the Landslide EP, which built upon the solid foundation of their unobtrusive, classic sound. With tracks ranging from the effortlessly laid back to the loud and infectious, this release showcased the band's creative diversity. The EP features the Southern rock anthem "Tennessee Whiskey", where the band encapsulates the traditional windows–down summer vibrato that makes any beer run or porch hang happen. They have since shared the stage with artists such as Kip Moore, Blackberry Smoke, and Darius Rucker as well as taking part in the last three Simple Man Cruises hosted by Sixthman and Lynyrd Skynyrd. They are to be listened to loud and preferably with a drink in hand. A Thousand Horses celebrate the revival of roots rock with their own country flavor.
Ticket prices are: $20 for Upper Grandstand, $35 for Lower Grandstand and $75 for Standing Floor Seats. All tickets are subject to applicable fees.
Visit http://www.carodeo.com/events/2017/kidrockconcert for updated information as the event nears. Watch a video teaser of A Thousand Horses new single "Preachin' to the Choir" here
The exclusive TV Partners of the Kid Rock concert are KSBW 8 and Central Coast ABC. Watch KSBW Action News 8 for exclusive coverage of the stage build, concert and more. The Hippo KHIP 104.3 FM and KTOM 92.7FM are the radio partners supporting this legendary show. Other sponsors include:
Presenting Sponsor – Taylor Farms
Official Tequila – Tequila Alderete
Official Beers – Coors
Official Whisky – Pendleton Whisky
Official Vehicle – My Chevrolet
Diamond Album Sponsors – Lowe Packaging Group/Holaday Seed Company and Sturdy Oil
Platinum Album Sponsors – American Door & Gate, Casa Sorrento Pizzeria, Fresh Foods, Inc., Jack in the Box and Warren Wayland
Gold Album Sponsors – Ace High Designs, Alco Water Company, Alli Pura Photography, Bengard Ranches, Credit Counseling Services, Dataflow Business Systems, Donovan Produce Company, Quinn Rentals, Pacific Ag Rentals, Renaissance General Restoration Contracting, Inc., Sabor Farms, Sandy Shaffer, Smith Family Wines and Tanimura & Antle
About California Rodeo Salinas
The 107th California Rodeo Salinas will take place July 20th-23rd, 2017. The California Rodeo Association is a non-profit organization that strives to preserve and promote the traditions of the California Rodeo Salinas and the West. We support the community and other non-profit organizations through the staging of the annual California Rodeo Salinas and other year round operations of the Salinas Sports Complex. Through donation of our facility, vending and fundraising opportunities during Rodeo and other events, the California Rodeo Association returns over $300,000 annually to local non-profits. For more information about the California Rodeo Salinas, log on to www.CARodeo.com or call the California Rodeo Office at 831-775.3100. -'Like' the California Rodeo on Facebook at www.facebook.com/CARodeoSalinas or follow us on -twitter @CaliforniaRodeo for updates, photos and more.