ABC Pro Rodeo Celebrating 75th Anniversary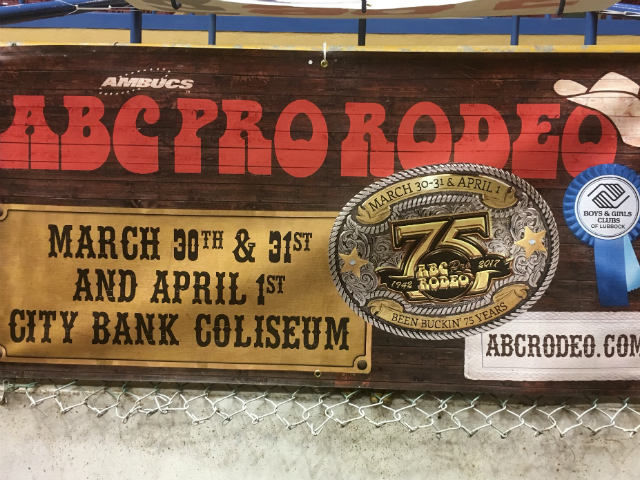 The ABC Pro Rodeo in Lubbock, Texas, has cause for celebration this year.
The rodeo will celebrate its 75th anniversary March 30-April 1 at the City Bank Coliseum.
"This should be a very exciting time and a great family event," said Will Calfin, a member of the ABC Pro Rodeo Committee, and a past chairman.
The rodeo is at 7:30 p.m. (CT) March 30 and March 31 and then will have two performances on April 1 – at 1:30 p.m. and 7:30 p.m.
On March 6, the Texas State Senate presented a Senate Resolution to attending committee members of the ABC Pro Rodeo, including chairman Scott Peterson.
The resolution was presented to honor the work, dedication and longevity of the ABC Pro Rodeo and its support of the Lubbock Boys & Girls Clubs, and was read on the Senate floor of the state capital in Austin.
"That Senate deal was amazing," Calfin said. "The community has stood behind us and supported us. Garth Brooks is here in Lubbock with shows (March 30-April 2 at the United Supermarkets Arena), and the community has really supported us. We have support this year like we have never had. That Senate deal was huge for us because it made it all over the media here and really helped us with sponsors."
Calfin acknowledged raising money for the rodeo is critical because of where the money goes.
"Every bit of our money we give away," Calfin said. "Our main charity is the Lubbock Boys & Girls Club. We also give to Susan G. Komen, Habitat for Humanity, Meals on Wheels and are working to put something together for the wildlife relief north of us. We have given more than $1.5 million to the Lubbock Boys & Girls Club and we estimate that we have given about a quarter of million dollars to other charities over the last 75 years. It's pretty awesome and cool that we have been able to do this for charities with this rodeo."
The stock contractor for the rodeo will be Beutler & Son Rodeo.
"The Beutlers are the only stock contractor, in 75 years, that we've ever had, so we are going to honor Bennie and Rhett Beutler," Calfin said.
Courtesy of PRCA