Acme Feed & Seed Announces February's Acme Unplugged, featuring Kree Harrison and Ryan Beaver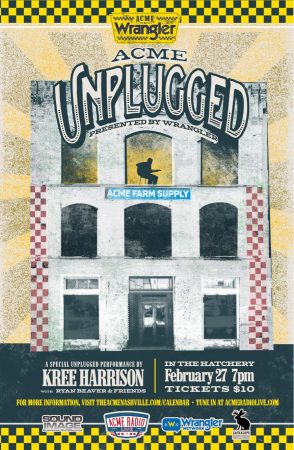 WHAT: Join Acme and The Wrangler Network for Acme Unplugged: a unique night of live music from Nashville's finest singers and songwriters, hosted by Acme Feed & Seed and streamed online at WranglerNetwork.com, as well as on Acme Radio via AcmeRadioLive.com. February's Acme Unplugged will feature Kree Harrison, with opener Ryan Beaver.
WHEN/WHERE: Monday, February 27th at The Hatchery at Acme Feed & Seed, and online at WranglerNetwork.com, AcmeRadioLive.com, and TuneIn. Doors at 6 p.m., show at 7 p.m.
TICKETS: Tickets are $10/per person and can be purchased in advance online here: theacmenashville.com/calendar, at the Acme Farm Store, or at the door. All ages are welcome.
WHO:
KREE HARRISON
Kree Harrison was born and raised in Woodville, Texas, and began singing in her church at age three. Over the next several years, Harrison sang for churches, rodeos, weddings and competitions. At ten, Harrison scored a development deal with Lyric Street Records, and moved with her family from Woodville to Nashville. Harrison eventually began to write her own songs and often found herself in writing sessions with Nashville's hit writers. She performed across local venues in Nashville such as the legendary Bluebird Cafe, as well as BMI showcases in Florida, such as the Key West Songwriters Festival and the Sandestin Music Festival. She also sang backup vocals on Kacey Musgraves' album, "Same Trailer Different Park" and on Eli Young Band's album, "Life at Best." In 2013, Harrison finished as the runner up on Season 12 of American Idol. Currently, Harrison works with Plaid Flag Music and released her album, "This Old Thing" in 2016.
RYAN BEAVER
Ryan Beaver, one of Rolling Stone's recent 10 Country Artists You Need to Know, came to Nashville from a small town in Texas, with a stop in Austin along the way. Ryan's insightful compositions and expressive voice honor his deep country roots, while still incorporating his lifelong love for rock 'n' roll. Ryan began writing music at an early age, and began performing at local venues in Emory, Texas at age 17. After spending some time immersed in Austin's music scene, Ryan relocated to Nashville where he has found his music home. During his career, Ryan has toured with Lee Ann Womak as an opening act, and has received acclaim from country stars such as Miranda Lambert, Ashley Monroe, Maren Morris and Kacey Musgraves.
ABOUT ACME FEED & SEED
Acme Feed & Seed, Nashville's iconic, century-old building, located in the heart of downtown, provides locals and visitors an original experience while honoring the much-loved character of Lower Broadway. A bustling lunch spot during the day, the first floor transforms into a "funky-tonk" at night, featuring rotating live music of Nashville's diverse musical landscape where every genre is represented. The first floor also plays home to the Acme Farm Store, offering locally-made artisanal gifts and sundry goods, as well as Acme Radio, an internet radio station providing an unfiltered voice of Music City and broadcasting live shows and unique programming via AcmeRadioLive.com. The second floor features a lounge with seasonally-inspired handcrafted cocktails, a menu of easily-shareable dishes and Acme's sushi bar. The third floor encompasses The Hatchery, the largest one-level private event and music venue on Lower Broadway. On Acme's rooftop terrace, guests can enjoy an open-air bar with 360 degree views overlooking the neon lights of Broadway, fireworks of Nissan Stadium and stunning views of the Cumberland River.