Acme Feed & Seed Announces the August Acme Unplugged, with Chuck Mead and Friends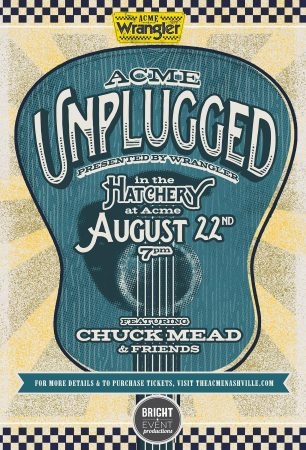 WHAT: Join us and The Wrangler Network, for Acme Unplugged; a unique, monthly night of music from Nashville's finest local singers and songwriters at The Hatchery and live streamed on WranglerNetwork.com, as well as on Acme Radio via AcmeRadioLive.com and the TuneIn app. August's Acme Unplugged will feature BR549 co-founder, Chuck Mead, along with a curated selection of his favorite local songwriters and performers.
WHEN/WHERE: Monday, August 22nd at The Hatchery at Acme, and online at WranglerNetwork.com; Doors at 6 p.m., show at 7 p.m.
WHO: Chuck Mead: After leading several popular '80s cult bands in and around his hometown of Lawrence, Kansas, Chuck Mead landed on Nashville's Lower Broadway where he co-founded the famed '90s Alternative Country quintet BR549. The band's seven albums, three Grammy nominations and the Country Music Association Award for Best Overseas Touring Act would build an indelible bridge between authentic American Roots music and millions of fans worldwide. After taking a hiatus from BR, Mead formed Hillybilly All-Stars, released his two solo albums, one with the his Grassy Knoll Boys, and became the music director for the Broadway smash, Million Dollar Quartet.
TICKETS: Tickets are $10/pp and can be purchased in advance here: http://tn.dm/2bc9RAW or at the door. All ages are welcome.
ABOUT ACME FEED & SEED
Acme Feed & Seed, Nashville's iconic, century-old building, located in the heart of downtown, provides locals and visitors an original experience while honoring the much-loved character of Lower Broadway. A bustling lunch spot during the day, the first floor transforms into a "funky-tonk" at night, featuring rotating live music of Nashville's diverse musical landscape where every genre is represented. The first floor also plays home to the Acme Farm Store, offering locally-made artisanal gifts and sundry goods, as well as Acme Radio, an internet radio station providing an unfiltered voice of Music City and broadcasting live shows and unique programming via AcmeRadioLive.com. The second floor features a lounge with seasonally-inspired handcrafted cocktails, a menu of easily-shareable dishes and Acme's sushi bar. The third floor encompasses The Hatchery, the largest one-level private event and music venue on Lower Broadway. On Acme's rooftop terrace, guests can enjoy an open-air bar with 360 degree views overlooking the neon lights of Broadway, fireworks of Nissan Stadium and stunning views of the Cumberland River.
ABOUT WRANGLER NETWORK
Wrangler Network is the online and mobile destination for fans of the western lifestyle to access exclusive live video of country music, rodeo, and equestrian performances and events. Millions of people access WranglerNetwork.com or the Wrangler Network via its free mobile app to get the latest clips, news, photos and more. For more, visit the Wrangler Network at WranglerNetwork.com and download the mobile app, free of charge, for iPhone or Android. You can also find Wrangler Network content on Facebook, Twitter, Instagram and now Snapchat.